You probably heard about music NFTs as the next hot thing.
But where to find them? Who are the leading Web3 music artists and collectors? And how to enjoy these MP3s once you mint a few of them?
That's where Oohlala comes in.
In this post, we'll show you how Oohlala aggregates Web3 music and how it can help you get started with music NFTs.
What is Web3 music?
Let's make sure we're on the same page.
Web3 music is the space that's emerging around music NFTs or non-fungible tokens with audio as the main asset.
Just like with regular JPEG NFTs, you can usually enjoy music NFTs without owning them. Anyone can listen to the file and, yes they can even right-click-save it.
They key idea is ownership. Like other NFTs, Web3 music creates new relationships between artists who sell music NFTs and their audiences. Instead of buying things like T-shirts or vinyl records, you can directly support your favorite artists. You can think of music NFTs as the digital version of vinyl.
Web3 music also creates new dynamics for exploring fan communities. You can find other fans by checking out who else mints your favorite artists. Then you can see what else they collect.
You can do this by browsing addresses with Zerion. For example, here is the Stani.lens address, owned by Stani Koulechov, the founder of Aave and Lens.
However, things get tricky when an address has hundreds of different NFTs. Music NFT gems can easily get lost. And even when you find them, you can't keep them or organize them.
Luckily, Oohlala.xyz can help with this and much more.
What is Oohlala?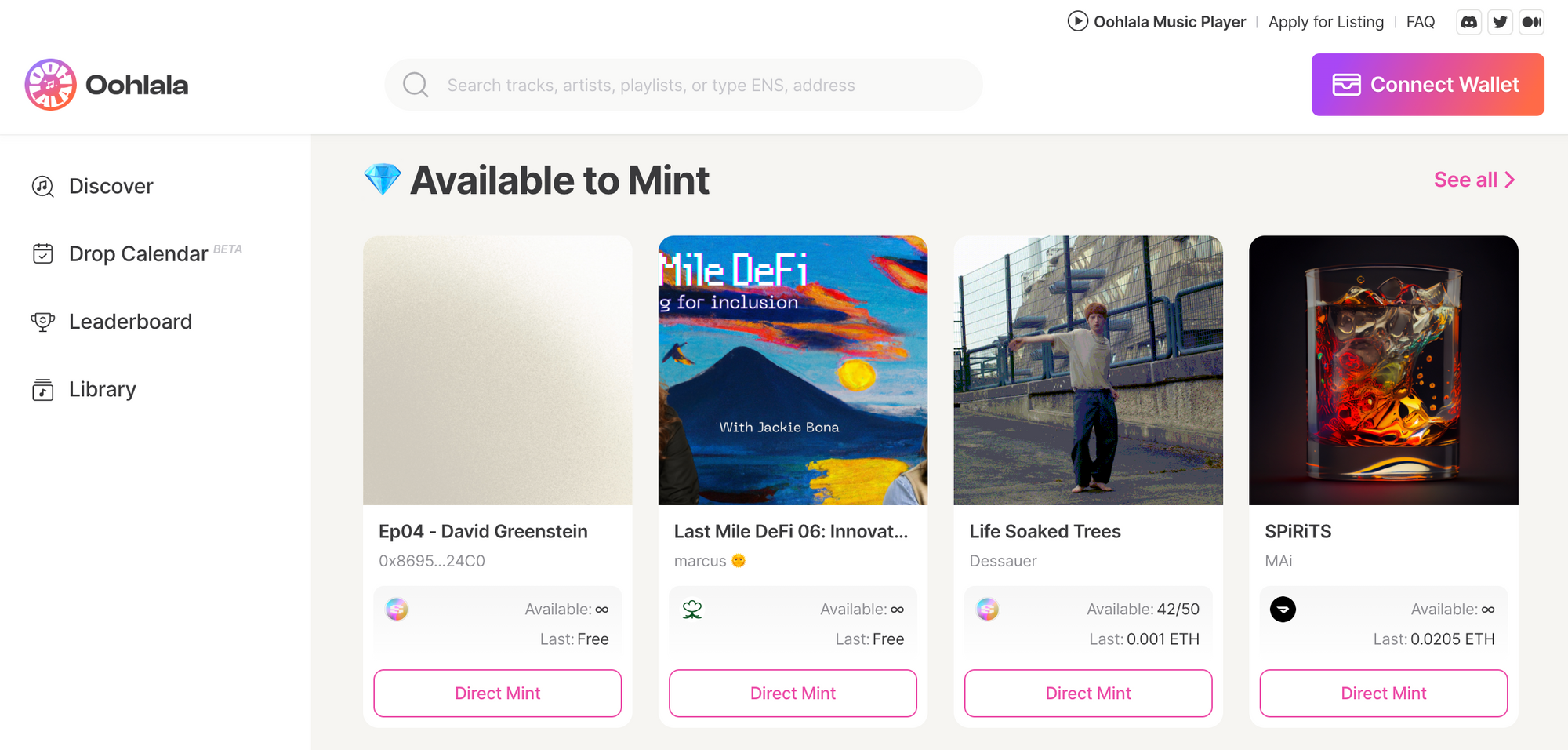 Oohlala is a Web3 music player & aggregator that seeks to improve the music NFT experience.
The Web3 music space is fragmented, with no dominant platform or standard for music NFTs. Not all wallets also properly display music NFTs or let you play the audio (Zerion Wallet does!).
The Oohlala team have done all the heavy lifting of integrating different Web3 music platforms and music NFT collections to display them all in one place.
Creating a profile
If you already own some music NFTs, just connect your wallet to Oohlala, and it will show all your music from over 18 platforms and collections.
You can then customize your profile, adding a description and avatar. There is also an option to verify your profile on Twitter.
While you can listen to music on Oohlala without creating a profile, it's useful for saving tracks and adding them to playlists.
Queue and Playlists
You can add any track you see on Oohlala — even you don't own that music NFT — to the queue or playlists. This works similarly to Spotify or other music streaming platforms.
Likes
On Oohlala, you can also like an individual music NFT, an artist, or a playlist.
All these likes then show up in your Library. It's a great way to put everything in one place before neatly arranging music NFTs in playlists or placing bids on marketplaces.
Listening to Web3 music on mobile!
Oohlala also has apps for iOS and Android — this means you can listen to your music NFTs on the go.
Sadly, on iPhone, the mobile app doesn't let you mint new music NFTs due to Apple's rules.
However, with Zerion Wallet, you can simply open oohlala.xyz in your Zerion's dapp browser and mint anything you want.
But first, you need to find interesting tracks.
How to find music NFTs
Oohlala is also great for exploring Web3 music and finding interesting artists and tracks.
Here are at least three ways to find music NFT to add to your collection.
Homepage
On its homepage, Oohlala curates interesting tracks, open mints, playlists by other artists and the community.
Many of the music NFT mints are free or have a very small fee. It's the easiest way to grab some web3 music for your wallet.
Discover

Oohlala also lets you search across 10,000+ music NFTs, applying a wide range of filters.
You can search by collection/platform, mint data, mint size, chain (Ethereum, Polygon, Optimism, and Arbitrum), and more.
View any address
One of the coolest ways you can use Oohlala is by entering any address in the search and seeing what music they hold. For example, here's web3 music owned by Vitalik.eth.

If you find an interesting music NFT, you can click through to other collectors who own that track. And then you explore what else those collectors hold.
Whenever you find something interesting, click 'like' and save it to your library.
Now that you know what Oohlala is and how it works, it's time to set up your profile.
Create your Oohlala profile
If you already have Zerion Wallet, it's easy to set up a profile on Oohlala.
Tap on 'Profile' and then 'Connect wallet'
Choose Zerion Wallet – you'll be redirected to a page with a 'Open Zerion Wallet' button
In the Zerion Wallet app, tap 'Connect'
Go back to the Oohlala mobile app — tap 'Verify'
Again, you'll be directed to the Zerion Wallet app, where you need to sign a message, confirming that it's your address
That's it! Your Oohlala profile is ready. You can now set your name, description, avatar — and start exploring Web3 music.
---
FAQ
Can anyone listen to music NFT?
Yes, anyone can listen to a music NFT, even if they don't own it. It's similar to how you can look a regular NFT like a Cryptopunk (and can even copy it). However, you own a music NFT only if you hold it in your wallet.
How do you play a music NFT?
You can usually plan a music NFT on the platform where it was minted. Alternatively, you can use a smart wallet like Zerion that lets you play the music NFT from any address (even those tha you don't own). Finally, you can use Oohlala to play any of 10,000 music NFTs on desktop or mobile, arranging them in playlists or a queue.
Where can I get NFTs music?
There are many platforms for music NFTs. Oohlala aggregates 17+ collections and platforms, helping you to find Web3 music and mint new tracks.
How do you find out about music NFTs?
You can use Oohlala's web or mobile app to see what music NFTs are minting now. You can also search over 10,000 tracks and find something you like.