Grab your wallet keys and save your gas, because Zerion is offering its first-ever cashback campaign together with Index Coop! Anyone who buys the DeFi Pulse Index (DPI) between 13 and 20 April 2021 on Zerion and holds for a minimum of one week is eligible to receive a 5% cashback INDEX tokens.
DPI is a basket of the top DeFi tokens by market cap. Since launching in late 2020, DPI has amassed a $125M+ market cap, offering investors an easy way to gain maximum market exposure without the pain of having to buy multiple tokens.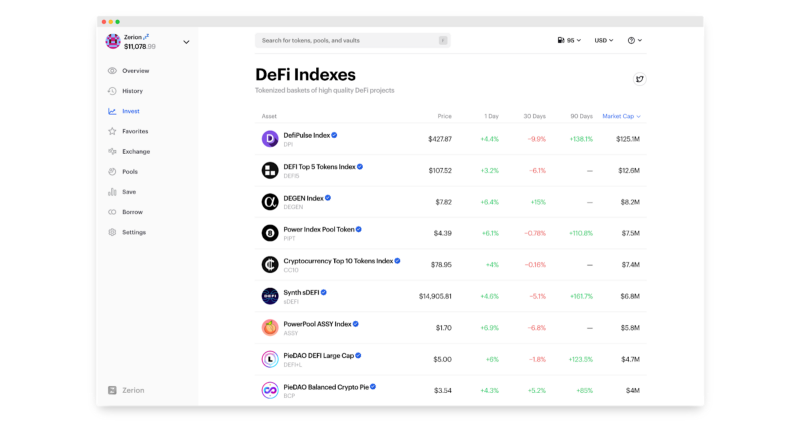 Over the past few months, there's been a huge uptick in volume across all DeFi indexes. We added an Index section on our Invest page, making it easier to find and compare the top tokenized baskets created by teams like Index Coop, PieDAO and Indexed Finance.
With more newcomers and DeFi natives putting their crypto to work via this asset class, we decided to team up with Index Coop to offer this exclusive cashback for Zerion users.
Campaign terms
If you want to be eligible for the 5% cashback reward, take note of the following T&Cs:
Interface exclusivity: Only wallets that buy DPI on the Zerion interface are eligible for rewards.
Campaign duration: This campaign starts at 9 am PST on 13 April 2021 and ends at 12 am PST on 21 April 2021. Any purchases made outside of this window will not be eligible for rewards.
Mandatory minimum holding period: Wallets are required to hold their DPI tokens at least until 12 am PST on 20 April 2021. Any wallets that sell all or a fraction of their DPI during this time will not be eligible for cashback rewards.
Reward distribution: The Index Coop team has allotted a total of $100,000 to be distributed in INDEX tokens. This campaign will work on a first-come-first-serve basis. Eligible wallets will receive 5% of their DPI purchase value in the form of INDEX, based on the price of INDEX at the time of purchase.
Got questions? Reach out to anyone on the Zerion or Index Coop team.