How PhishFort manages business financials with Zerion
Businesses are going bankless, too! Learn how one company is using DeFi to manage routine finances.
PhishFort was created to address the biggest threat to providing customers with a magical user experience: security. To strengthen your company's security, PhishFort offers a suite of tools that identifies phishing attacks and helps you to stop them. This enables your business to strengthen the trust customers have in your company by fostering a safer community.
After helping companies protect customers from phishing attacks over the last year and a half, PhishFort has established a profitable company with a talented team. Impressively, PhishFort has accomplished this while staying true to the ethos of decentralization by running a large portion of their financial operations on the blockchain.
"We are a sovereign company. We have complete control over the keys to our accounts and therefore our finances," says Matt Marx, CEO of PhishFort.
As many companies in the decentralized technology space know, managing your finances entirely in cryptocurrency is no easy feat.
Finding a solution that fits
"In the early days, we hadn't found a solution that made managing our company's finances in cryptocurrency as practical as we needed it to be," Matt explains. "We tried a variety of different services but ultimately they were inconvenient to use. We needed a service where we could manage all of our accounts in one place, remain bankless, and leverage decentralized exchanges to move in and out of stablecoins."
After testing a few options, Matt found a solution from another member of the cryptocurrency community. "We mentioned our challenges to one of our customers, Fortmatic, and they recommended trying Zerion. Now I'd consider ourselves power users of Zerion!"
Zerion acts as PhishFort's business account. Revenue is deposited directly into PhishFort's wallet and whenever an expense needs to be addressed, they manage payment through Zerion.
"Whether it's paying AWS or organizing funds for our payroll tool, Zerion is at the core of our finances. It's like a bank in a box," says Matt.
"Zerion's made it easy to securely manage our finances through a single service without giving up custody or control of our funds."
Managing multiple wallets
Like a traditional company, PhishFort has accounts set aside for payroll, day-to-day expenses, and funds that are kept for capital expenditure. Each account requires different levels of security and accessibility depending on the value stored in the account and the frequency at which the account is accessed.
An account used for managing capital expenditure holds a large amount of value and has infrequent usage; for this kind of account, PhishFort may use a multi-signature wallet like Gnosis Safe. Alternatively, an account used for day-to-day purchases holds less value and demands more frequent use; PhishFort uses Exodus, MyEtherWallet, Fortmatic or MetaMask wallet for these funds.
With Zerion, PhishFort is able to manage these different accounts in a single place. PhishFort does this by connecting a wallet to Zerion as needed and, when finished managing a particular wallet's funds, simply connecting a different wallet without ever leaving the Zerion interface. This makes managing wallets as quick and easy as PhishFort needs it to be.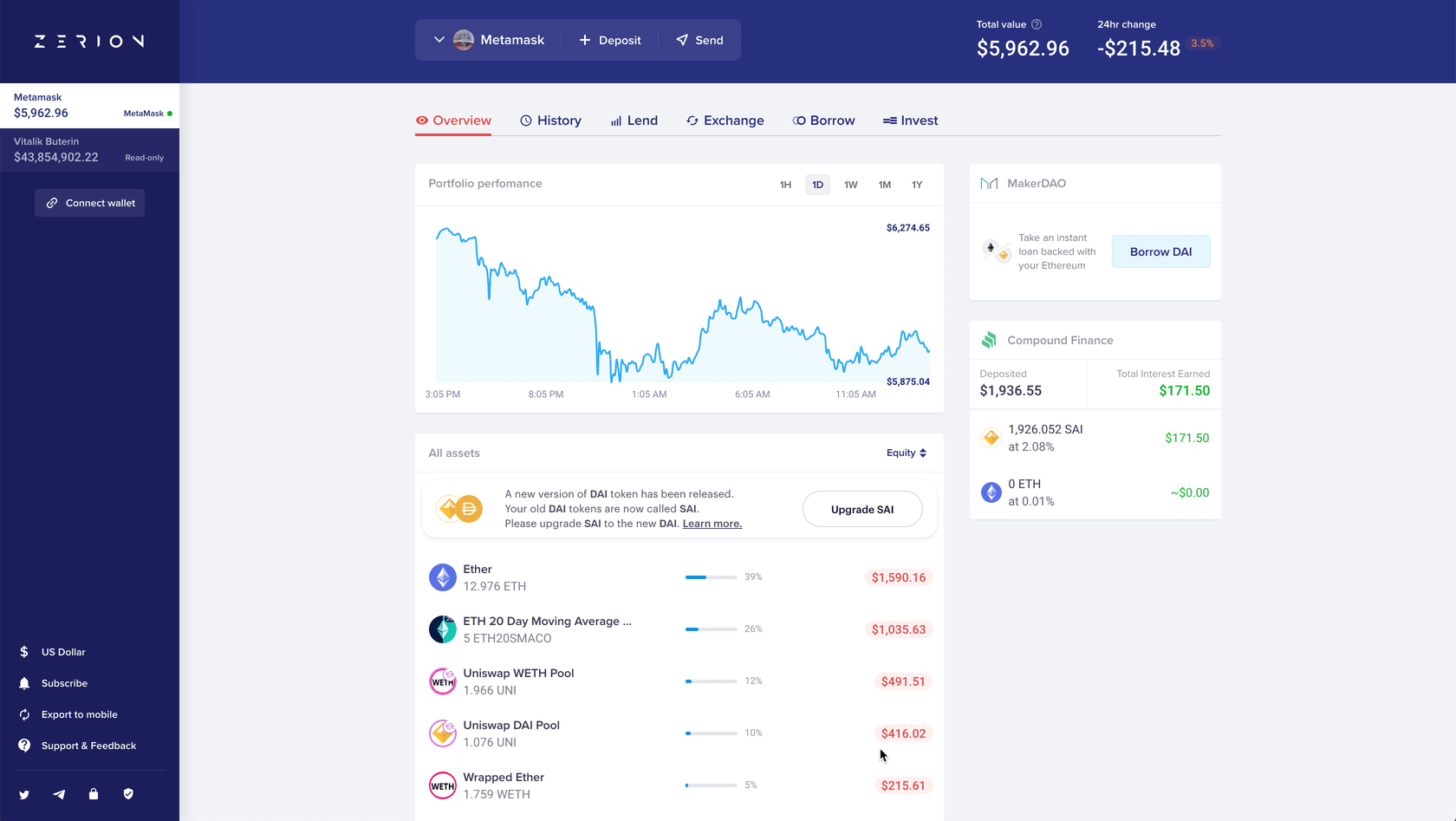 Converting revenue to stablecoins
As PhishFort accumulates revenue in the form of cryptocurrency, they need to ensure that price volatility doesn't negatively impact their holdings. The easiest way to guarantee that their cryptocurrency's value is stable is to convert funds into stablecoins. To manage this, PhishFort uses Zerion's exchange feature.
PhishFort swaps funds into stablecoins on Zerion where, under the hood, the Uniswap protocol facilitates the exchange. With Uniswap, stablecoins such as SAI, DAI, USDC, and TUSD can be acquired with a wide variety of supported tokens like ETH, WBTC, or BAT.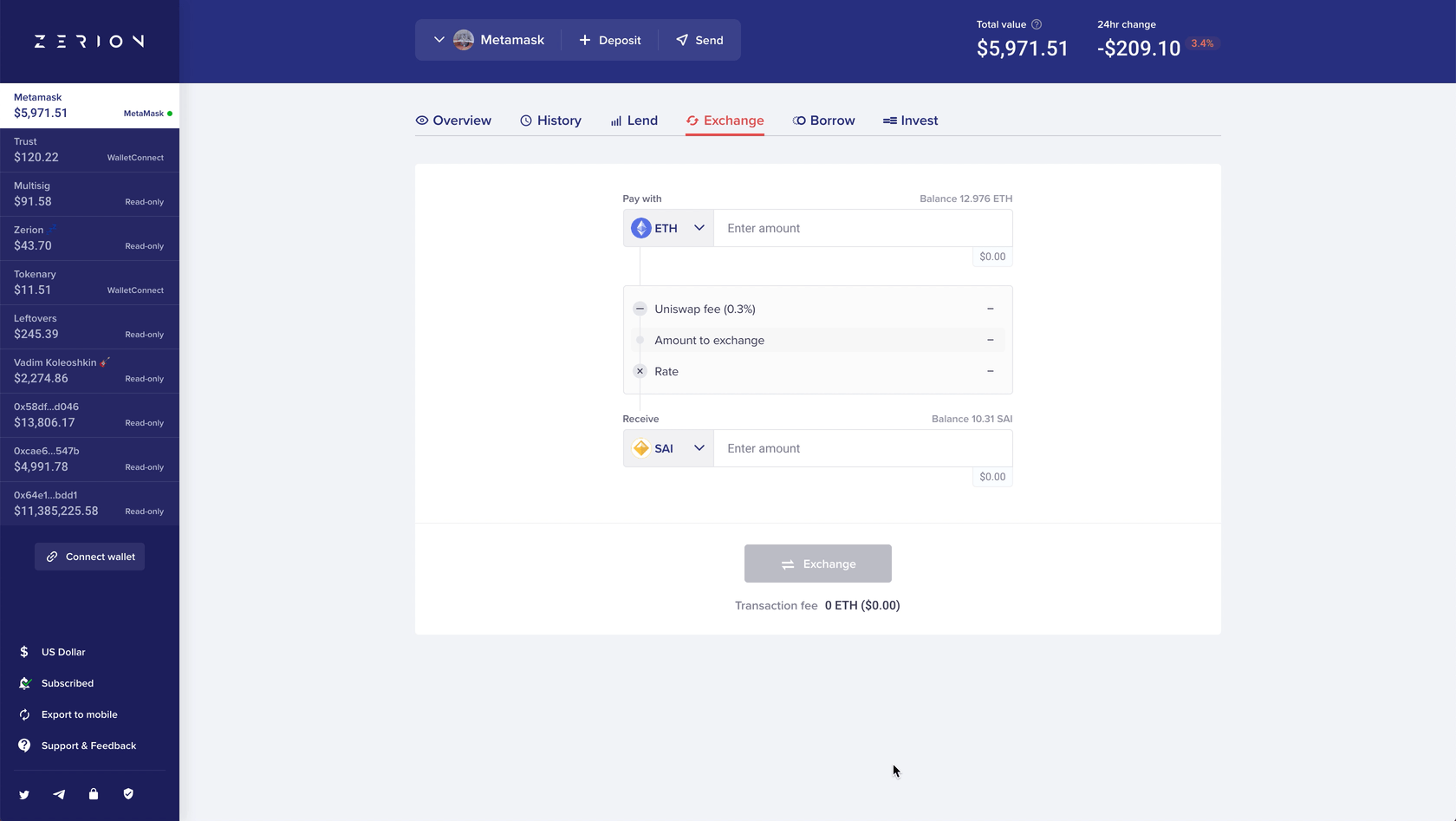 Once funds are secured in stablecoins, PhishFort gains the peace of mind that they can rely on using these funds in the future without their value changing. Stablecoins are also ideal for payments as customers and businesses are guaranteed to send or receive the correct amount without volatility complicating transactions.
Earning interest on idle funds
When managing a wallet holding a large amount of value with infrequent usage, such as a wallet used for capital expenditure, PhishFort deploys these funds on Compound through Zerion to earn interest. This way, PhishFort's funds passively grow in value when they're not being used.
By deploying a token like DAI on Compound, PhishFort currently earns 7.58% in interest on their funds. In the past, these interest rates have reached upwards of 10.00%. This allows PhishFort to treat their wallets like savings accounts at a bank but with higher interest rates.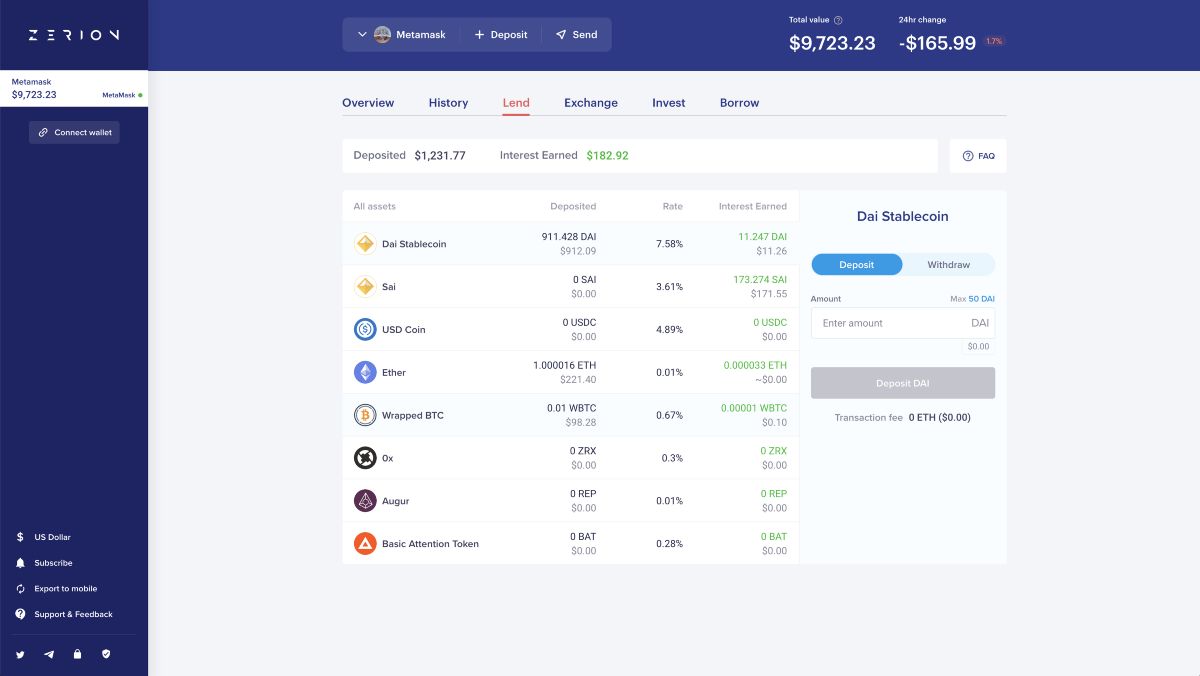 In one simple interface, PhishFort oversees the amount of funds they have lent out, the current interest rates provided by Compound, and the amount of money they've earned in interest. Whenever PhishFort needs access to funds currently earning interest, they can do so instantly and at any time by simply withdrawing the amount of funds they need.
Decentralized finance is here
With Zerion, making the transition from traditional finance to decentralized finance (DeFi) is easier than ever. PhishFort is the perfect example of a company that has attained complete control over their finances without relying entirely on the banking system. With DeFi, businesses have gained a way to manage their funds independently without the need of a bank.
At Zerion, we are continually working towards making managing your finances in DeFi a convenient and intuitive experience. We believe DeFi is a valuable alternative to the banking system and we're here to help you get started.
Gain complete control over your finances 🚀
Connect your favorite wallet or create a new one and start benefiting from DeFi with Zerion. Easily make decentralized trades, earn interest, or take out a loan without ever giving up custody or control of your funds.
---
📢 Follow us on Twitter at to get latest updates, or join our Telegram channel and Reddit community.