For this holiday season, give yourself the gift of wrapping and staking MATIC on Lido with Zerion Wallet.
The teams at Lido and Zerion have launched a promo campaign to reward 5 lucky winners with $400 USD worth of LDO tokens for staking MATIC during this 10-day campaign. Further below in this article, read how you can participate and potentially win.
But first, let's dive deeper into learning how MATIC staking works, how Lido makes it super easy, how to connect to Lido and stake MATIC with Zerion Wallet, and what you need to do to earn staking rewards.
How MATIC staking works
Polygon PoS (Proof of Stake) is a blockchain in which validators and delegators stake MATIC on the Ethereum mainnet to secure the Polygon network.
Anyone can stake MATIC but usually you need to connect to Polygon staking's website. You also need to manually select the validator. And finally, you lock up your MATIC tokens when you stake. If you suddenly need those tokens, you must wait for 3-4 days before they can be unstaked.
That's where Lido comes handy with its liquid staking solution.
Lido Staking
Lido Finance is the leading liquid staking protocol and the biggest DeFi protocol by the total value locked.
Managed by Lido DAO, the protocol offers smart contracts for staking Ethereum, Matic, Solana, and other assets. Meanwhile, Lido's node operator partners take care of maintaining staking infrastructure.
Importantly, liquid staking gives you separate liquid tokens that represent your staked assets. For MATIC tokens, stMATIC is the wrapped version of MATIC staked in Lido. You can use stMATIC just like regular tokens: send to anyone, swap, or use in DeFi protocols.
As long as you hold stMATIC, it will earn staking rewards. However, to save on gas fees, these rewards are not paid out. Instead, the price of stMATIC goes up as the Lido staking pool accumulates daily rewards.
Now that you know how this works, let's see how to stake MATIC with Zerion.
Stake MATIC on Lido with Zerion
To begin, make sure you have MATIC on the Ethereum network. Here's a quick video tutorial on how to swap tokens for Matic on Zerion Wallet.
If you already have MATIC tokens on the Polygon network, you can bridge and transfer them to the Ethereum network with Zerion's web app (coming soon for the mobile app).
Once you have MATIC, unlock them to use on Lido Finance:
Use the dApp Browser in Zerion Wallet
Go to polygon.lido.fi
Make sure the Ethereum network is chosen
Choose a wallet to connect
Enter the amount of MATIC to convert/wrap to stMatic
Click Unlocked tokens
Approve and sign the transaction
After that, start staking Matic and earn rewards:
Go to polygon.lido.fi via dApp Browser in Zerion Wallet
Make sure the Ethereum network is chosen
Choose a wallet to connect
Enter the amount of stMatic to stake
Click Stake now
Approve and sign the transaction
Voila! You're earning rewards for staking MATIC and you'll see stMATIC in your Zerion Wallet.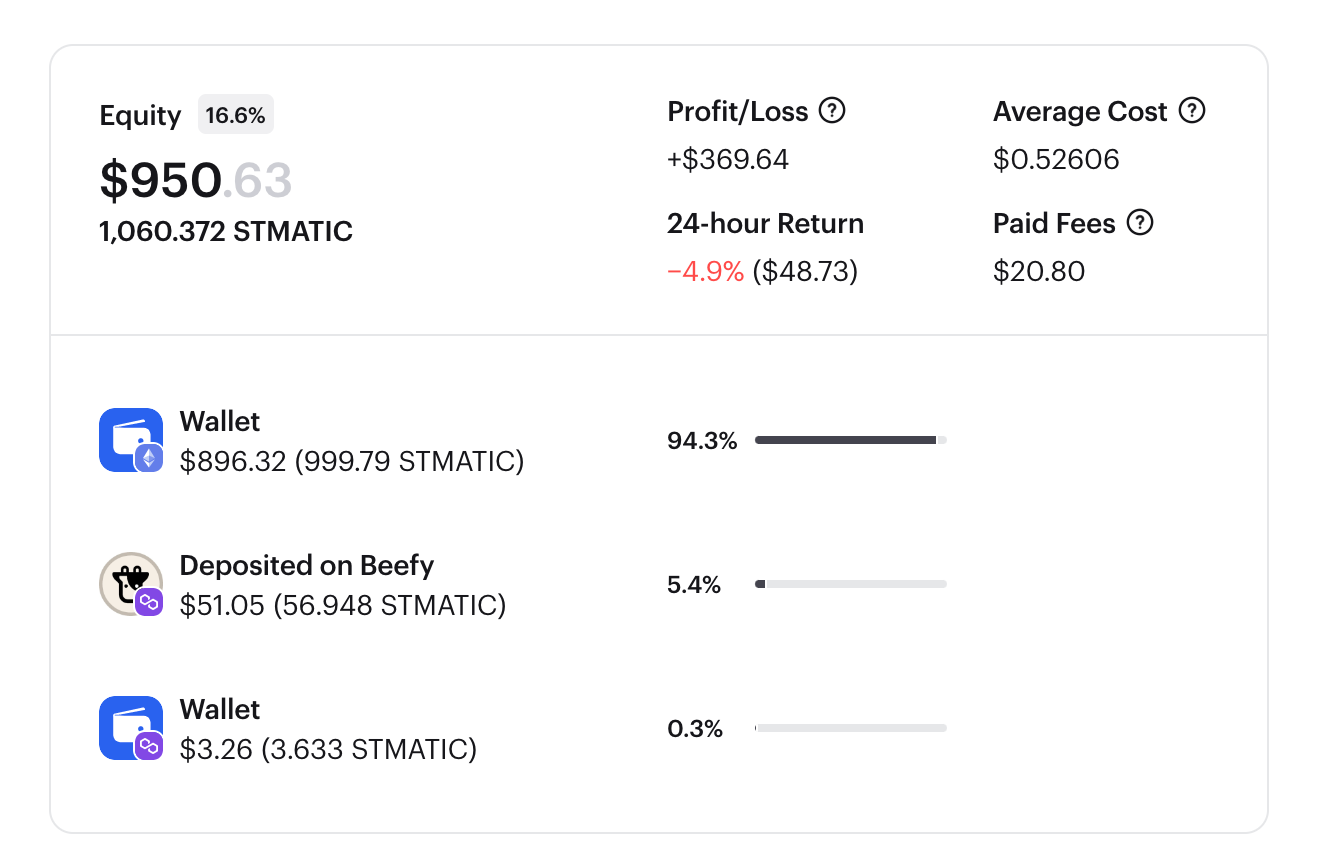 Who gets MATIC staking rewards
MATIC staking rewards are split between validators and delegators.
The Polygon network relies on 105 validators to secure the network and all the spots are taken. However, anyone can become a delegator by staking MATIC with any validator node.
The rewards aren't fixed and depend on the volume of staked MATIC. Polygon targets 30% of the supply to be used in staking.
Staked MATIC earns daily staking rewards. However, claiming these rewards could be costly because they are on the Ethereum network.
The easiest way to stake MATIC is with Lido: you can do this via a simple user interface or just buy stMATIC with any token.
Staked tokens: stMATIC
stMATIC tokens represent MATIC tokens staked with the Lido validator node plus staking rewards.
You can think of stMATIC tokens as a share of the total pool of staked assets and accumulated rewards. As a result, the price of stMATIC is higher than the price of regular MATIC tokens.
You can always unstake stMATIC via Lido and get back your MATIC tokens. Or you can simply sell your stMATIC token and get MATIC or any other tokens — Zerion swap can help you with that.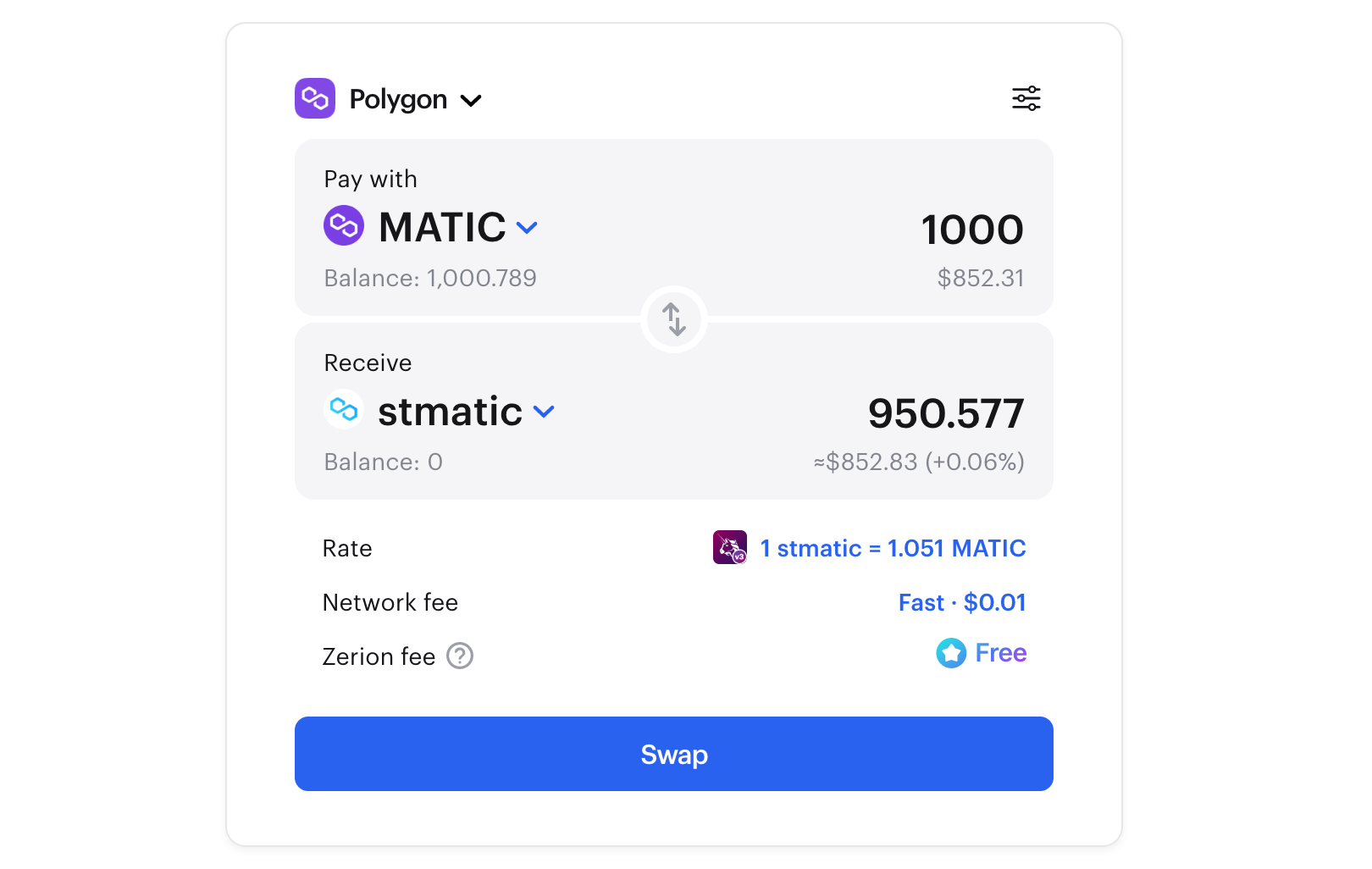 Get a chance to win $400 LDO Tokens
In this article, we've covered the benefits of staking MATIC with Lido and how easily it can be done through Zerion Wallet. So here's your chance to apply what you've learned and potentially get $400 USD worth of LDO tokens sent to your wallet.
To participate, here's what you need to do:
Use Zerion Wallet and its dapp browser to connect to polygon.lido.fi
Stake a minimum of $100 USD worth of MATIC tokens on Lido
Staking must happen during the promotion period and staked for a minimum of 7 days
Wallet used for staking must hold a Zerion DNA (you can mint it for free in Zerion Wallet)
Please read the details for the rules and eligibility of this campaign here.
---
FAQ
How much do you get for staking MATIC?
Staking rewards depend on how much MATIC is already staked in total. Polygon targets 30% of MATIC supply to be staked. Staking rewards APR is higher when less MATIC is staked and lower when more assets are staked.
Is Lido good for staking?
Lido Finance offers an easy-to-use, decentralized and permissionless liquid staking platform. Lido's staked tokens such as stETH and stMATIC have high liquidity and are widely used across DeFi protocols.
Is Lido staking safe?
No DeFi protocol can be deemed 100% risk-free. There's always a chance that there are some undiscovered bugs in smart contracts. However, Lido Finance is the largest liquid staking DeFi protocol, currently securing over $6.5 billion.
Can you stake MATIC on the Polygon network?
No, you can only stake MATIC on the Ethereum blockchain. That's because Polygon effectively uses Ethereum to secure its own Proof of Stake blockchain. However, you can bridge stMATIC, Lido's staked MATIC token, to Polygon and use it in DeFi protocols.
What are the requirements to stake MATIC?
There is no minimum staked amount for MATIC. You can start with as little as 1 MATIC token to see how it works. However, you must stake MATIC tokens on the Ethereum blockchain, which has relatively high gas fees. So it would make sense to start with at least $100 worth of MATIC tokens.
Is MATIC a good investment?
MATIC is the native coin of the Polygon network, used to pay gas fees. The price of MATIC is highly volatile and depends on many factors, for example the usage of the network and the share of supply staked or locked in dapps and protocols. Currently, Polygon PoS is one of the most popular EVM networks. Polygon also had a stream of stellar partnerships. But whether MATIC is a good investment depends on your investment goals and planning horizon.