The first month of the year is behind us with all its celebrations and new resolutions.
Now it's time to share what we at Zerion have been up to over the past month. This includes new features, REST API, and more.
Bridges and widgets on mobile
One of the most requested features was bridging on mobile — it finally went live!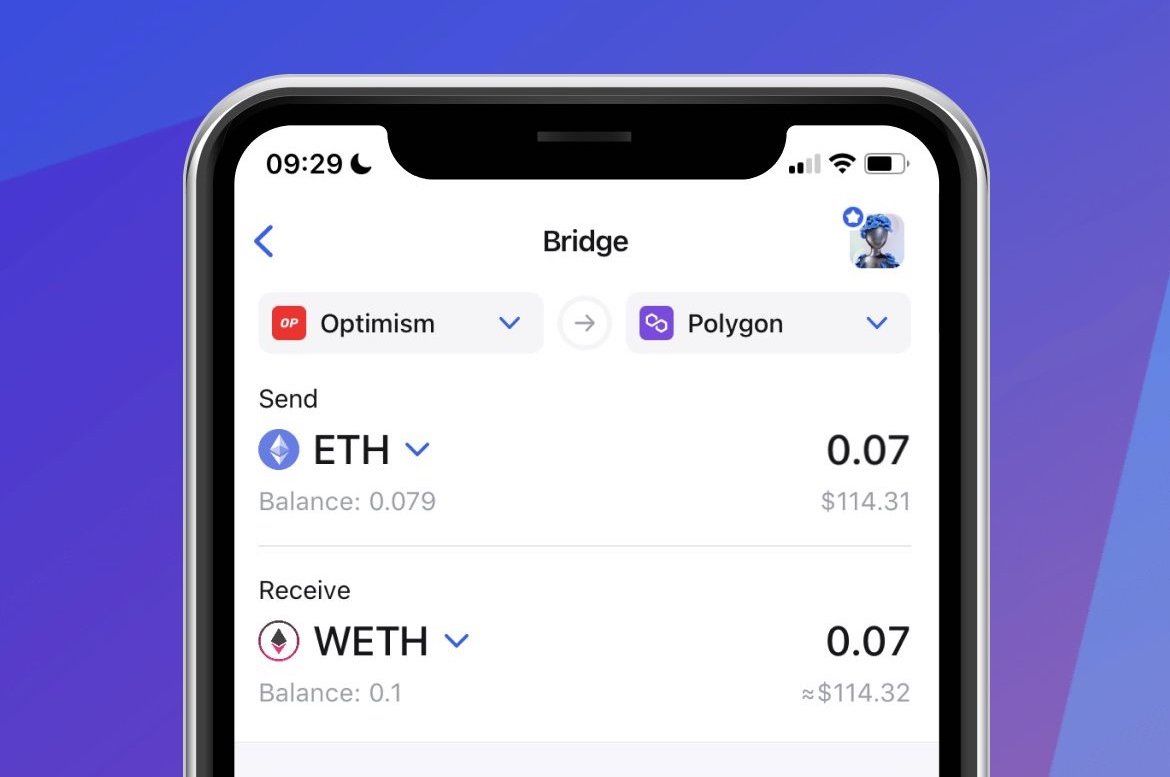 You can now transfer tokens between any network in a fast, seamless, and secure way on your phone. Like the version in the Zerion web app, the bridge aggregation is powered by Socket. It finds the cheapest and fastest routes for sending from one network to another.
Zers on Android now also have widgets. For some time, on iPhone, you could put your DeFi portfolio value, crypto prices, or ETH gas fees as a widget in one of the screens. All this helps to stay on top of the key information with just a glance. Now this is available across all smartphones. Oh, and you can also put your favorite NFT as the widget.
Speaking of NFTs, ICYMI, trending NFT collections have been featured in Zerion's Explore tab. By tapping or clicking on any of those collections, you can see the key data such as floor price, explore individual NFTs, and more.
You can also easily send NFT to another address right on your smartphone.
And you can now set up the custom gas price. Not only for sending NFTs but for any transaction. This gives you even more flexibility. For example, by setting a higher gas price, you can ensure that your transaction goes through during busy periods. Or, if you're not in a rush, you can try setting a lower price and waiting for your transaction to execute.
Zerion REST API
Last year, we invited devs from the Zerion community to test the new REST API privately. Now it's live!
The Zerion REST API is a powerful toolkit for building feature-rich Web3 applications, wallets, and protocols with ease.
With Zerion's infrastructure, developers can easily access reliable data for addresses, assets, and protocols across major chains in real-time. This API is already live in tools like Rainbow Wallet & StakeDAO.
Our current version is available for public testing — NFT endpoints & trading endpoints are coming soon.
Create a dev key and let us know in the #devs-lounge in Discord if you have any feedback.
Connecting, connecting
While January was quieter, we hosted some Web3 Wednesdays and Zerion Connect calls.
In our Twitter Spaces, we welcomed WalletConnect, Plaid, and Blocknative to Web3 to talk about wallet libraries.
Gone are the days when MetaMask was de-facto the only Web3 wallet. Now the most active Web3 citizens use a range of newer, smarter wallets such as Zerion or Rainbow. Luckily, wallet libraries make it easy to add the 'connect wallet' button for many different wallets without building authentications from scratch.
In our Discord, we hosted a Zerion Connect call, discussing our 2022 achievements, current updates, and plans for 2023. In future calls, we'll keep inviting external guests who might bring new and exciting opportunities, so stay tuned.
And we won't be keeping this party online only.
See you in Denver?
The next biggest IRL event in Web3 is undoubtedly ETHDenver.
The Zerion team will be there in full force, not just at the main conference but also at many side events before and after.
February 17: Zerion founders will deliver a keynote at WalletCon.
February 27: during the BUIDL week, Abi, Zerion's Head of Community, will do a workshop. He'll talk about some best practices for crypto companies and will showcase Zerion's new REST API.
March 1: Zerion will host a gmTrivia Night with Dispatch, Layer3, and C4. This will be a decentralized take on your classic pub trivia with fantastic prizes for the top-performing teams.
If you'll be in Denver, hit us on Twitter or ask around in Discord about the team's whereabouts.