Our new support for NFTs comes with a gift 🚀
We're thrilled to announce that NFT support is now live across all Zerion apps!
Non-fungible tokens (NFTs) are becoming a near-universal asset class amongst DeFi enthusiasts. Yet tokenized proof of ownership — from art collectables to written content to proof of attendance badges — has still felt like a somewhat fragmented area of the DeFi user experience.
That's changing, fast.
At Zerion, we recognize that DeFi is constantly being redefined by the people who use it. Web 3.0 is paving the way for a world where everything from your membership in a community to your liquidity position in a Uniswap V3 pool will be represented in some form of digital ownership.
This much-awaited feature is a first step in bringing that reality to Zerion.
NFTs on Zerion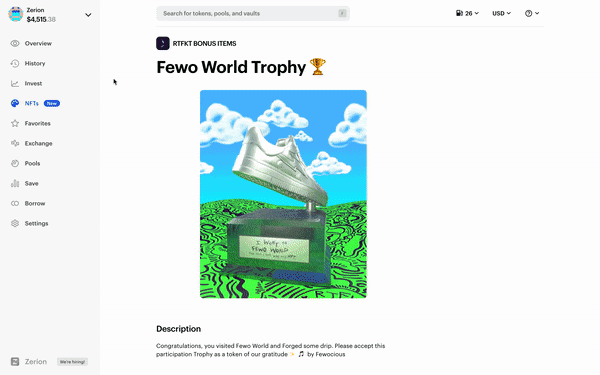 NFTs will now live on a separate page that can be accessed via the navigation panel. We worked in collaboration with leaders in the NFT space to make this feature possible. OpenSea and Rarible offer powerful APIs for the most up-to-date information on your digital collectables. Each page contains a description of the NFT and applicable information such as the brand, creator, event or rarity label of the token.
The Zerion Genesis NFT Collection
What better way to kick off NFT than to mint Zerion's first NFT collection?
The Zerion Genesis Collection is an exclusive set of digital artworks created in collaboration with Nikolay Ironov, an AI developed by the design studio Art. Lebedev. (Check out Nikolay's fascinating backstory on convincing clients for over a year that he was human.)
Each card displays a novel representation of Zerion's logo, reflecting the multiple lenses through which a single product — and broader industry — is perceived based on the value derived by those who use it. The evolution of decentralized finance and web 3.0 is one in which the lines between money, debt, ownership and creative works are ultimately blurred.
We believe the new economy is open to anyone — and the tools of technology aid how we define this.
Campaign details
These limited-edition NFTs are claimable on Zerion over a 5-day period, with unique artworks available at different rarity levels — Generic, Rare and Legendary.
One NFT is randomly assigned per wallet address with the following probabilities: ·
Legendary — 0.1%
Rare — 15.3% ·
Common — 84.6%
Simply head over to app.zerion.io to claim your NFT. Hurry, because several NFTs have already been claimed since deployment!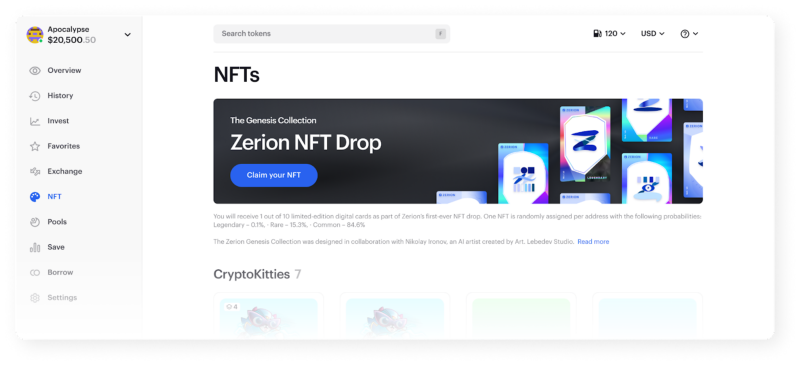 ---
We'd love to hear your feedback on NFTs on Zerion! Tweet us what you think or chat to the team on Discord.