Stay up-to-date with critical notifications on your wallet
Since Beta of our product launched in early 2019, we have helped thousands of people access DeFi: from managing your CDP to lending on Compound and trading on Uniswap. More than 1000 users manage over $15M in assets through Zerion, and we are extremely grateful for your trust.
Last month we focused on one of the missing bits in the whole industry. We are excited to introduce the most comprehensive push notifications for your account.
What is it all about?
Once you log into your Zerion account, you can subscribe to receive browser and push notifications (for Android). With Zerion notifications, you will instantly spot an incoming transfer, get an alert when your CDP is in danger, and be notified of the Stability Fee rate changes as well as DAI yield spikes on Compound. In total, we support 18 types of notifications.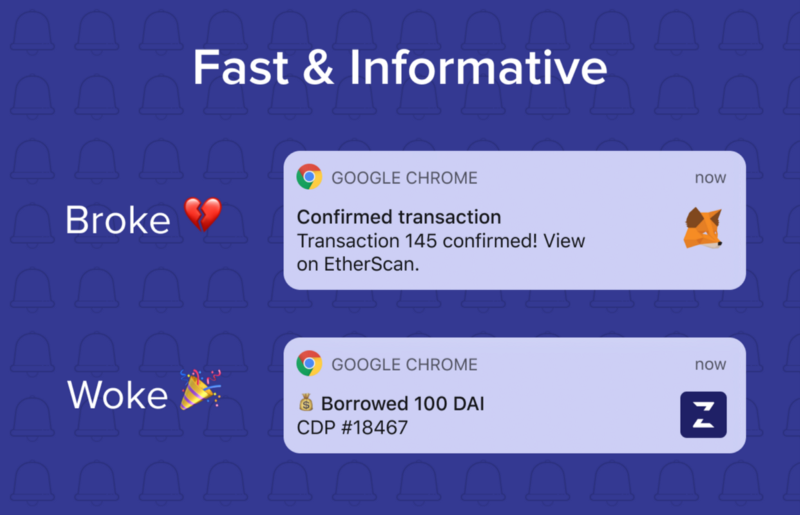 What kind of notifications do we support?
1. All possible types of transactions
Sending and receiving assets
Trades via any DEX protocol
Deployment of contracts and custom ABI calls
2. CDP notifications
CDP liquidation risk
Stability fee changes! (i.e. "Stability Fee is down 1.5% to 16.5%")
Deposits, Withdrawals, and Repayments
3. Compound updates
Spikes in DAI lending rates
Deposits and Withdrawals to Compound
4. Product updates
Important Zerion releases and news
Again, we promise that we will not send ads 💌
How do I start getting notifications from Zerion?
Open Zerion, log in with an existing wallet, or sign up for a new account. In the side menu, click on Subscribe and then confirm access in your browser!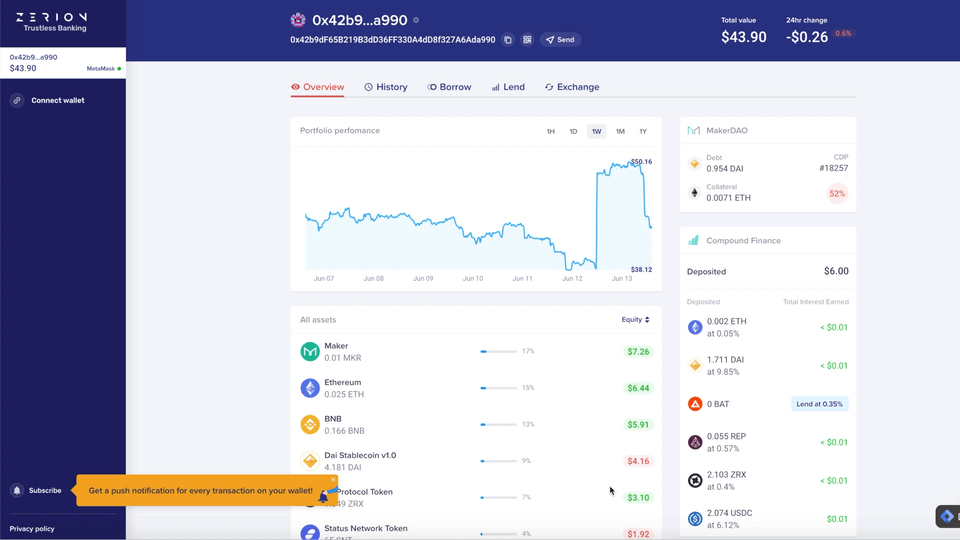 At Zerion, we care about our clients, so we are making the most user-friendly & intuitive product, and this feature was not an exception 🥰
If you have feedback or a feature request, let us know in our Telegram group!
Try live push notifications on https://beta.zerion.io!
---
Evgeny Yurtaev is the co-founder and CEO of Zerion — the first non-custodial bank for Decentralized Finance.