We're excited to join ETHBarcelona on July 6-8!
As an event dedicated to exploring how blockchain can help build a sustainable world, we feel it's a great place to gather the Zerion team and friends. It's also a perfect opportunity to meet other Web3 folks to keep building during this bear.
In this post, we'll tell you who's coming to Barcelona, what Zerion's agenda is, and who and when you can meet us.
What is ETHBarcelona?
Organized in partnership with the Ethereum Foundation, ETHBarcelona is a three-day event that will bring together up to 2,000 makers, developers, and blockchain enthusiasts.
Over 100 speakers will share their views on the present and the future of Web3. Lots of leading protocols will also hold booths with lots of swag and an opportunity to talk directly to people building Web3.
The conference is also inspired by the SolarPunk movement, envisioning a world where technology can be a force for a better, more sustainable world. A small but important part of that is reducing waste, so please bring your own bottle and cup (you might also be able to pick up some relevant swag at the company!).
Wen: July 6-8, with side events before, during, and after the conference.
Where: Centre Convencions Internacional Barcelona, Plaça de Willy Brandt, 11-14, Barcelona, 08019 Spain.
Zers, who'll be there?
As many as 16 members of the Zerion team are coming to Barcelona!
Our Zers will be coming from Argentina, Israel, Vietnam, and throughout different parts of Europe. They represent almost every part of Zerion from mobile and product to community, marketing, and beyond. It's a great chance to learn everything about Zerion's products and maybe even join the team.
If you have any partnerships in mind, please speak to Marketing Lead Alexander Guy:
Co-market with Zerion NFTs: Genesis and Zerion DNA
Speak at Zerion Web3 Wednesdays (Twitter Spaces with 73k followers) and Zerion Connect (our Discord, also with 73k members)
Invite our speakers to your podcast, Twitter Spaces, conference, etc.
If you want to build something with Zerion, please get in touch with Bizdevil Andrey Bugaevski:
Add support for your network to Zerion Wallet's multichain capabilities
Add tracking for your protocol in Zerion Wallet
Add the Zerion Wallet button to your dapp
Use Zerion DeFi SDK and Zerion API in your app
Zerion's agenda
It's going to be a busy week in Barcelona, here is the schedule.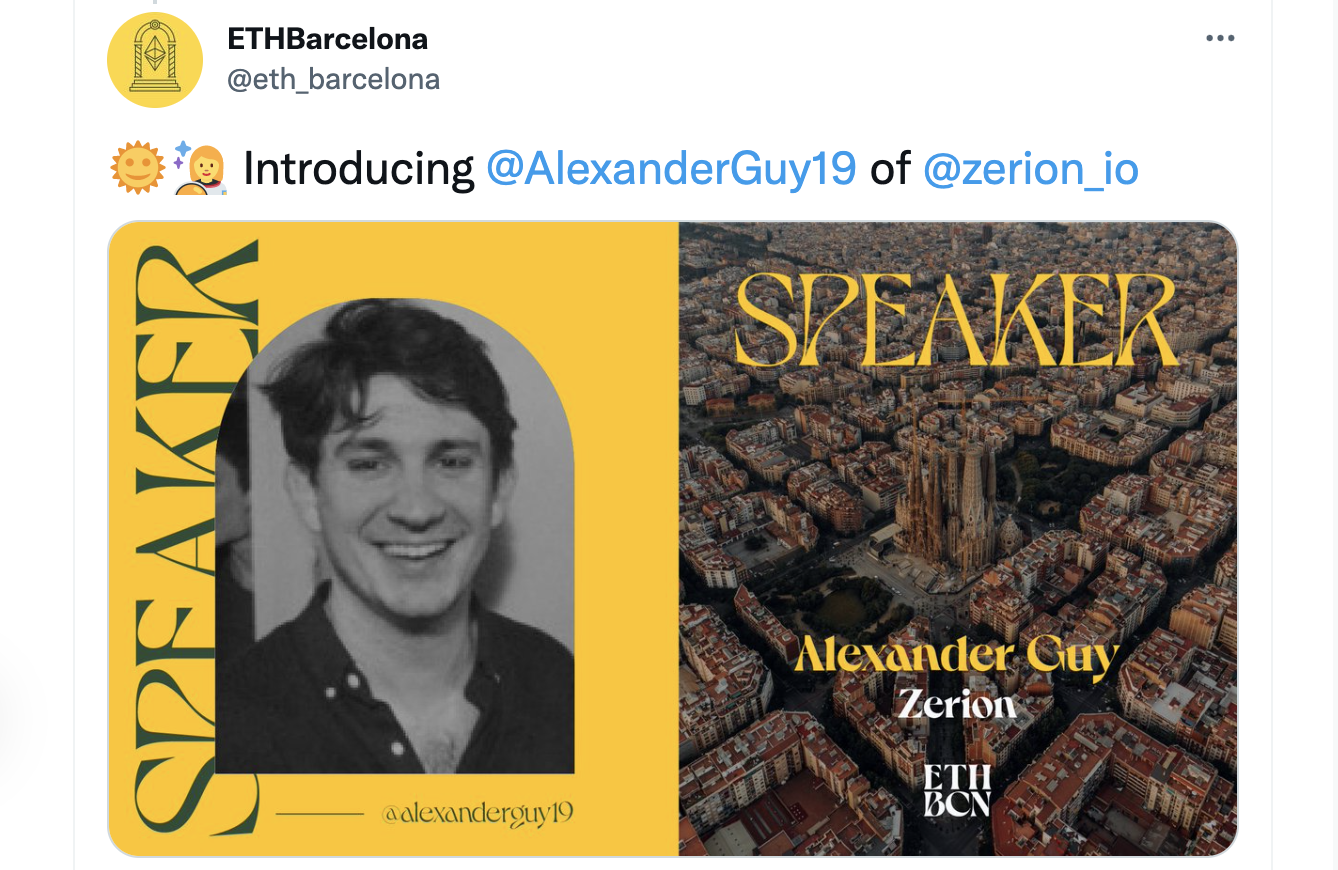 You will always be able to stop by booth S2 at the ETHBarcelona conference venue to meet the team and hear about Zerion: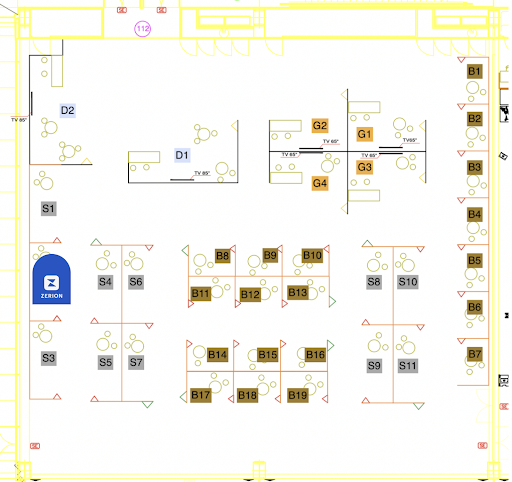 Come, meet us
Throughout the week, the Zerion Team will be around Barcelona, speaking, networking, learning, building, and dancing. If you want to meet us, it's best to ask on Twitter or Discord and we'll reply with our team's whereabouts.
Ens veiem a Barcelona!