Hey friends. We're starting this month's newsletter on a somber note. The war that is unfolding in Ukraine is heartbreaking. Members of our team and our community have been directly affected by this crisis and like you, we watch in horror as history repeats itself. To the millions of Ukrainians both in the country and anxiously watching from around the world, we are with you 🇺🇦

Our immediate priority over the past few days has been the safety of our team. But these events have also forced us to think about how we operate now and in the future. Zerion is a globally distributed team founded by Russians and Ukrainians. We've managed to build something truly special over the past 5 years and it's times like these that remind us why we do what we do. This conflict has strengthened our belief that financial access built on decentralized infrastructure is a right, especially in times of crisis.

Please take care of yourself and others during this difficult time 💙
Product updates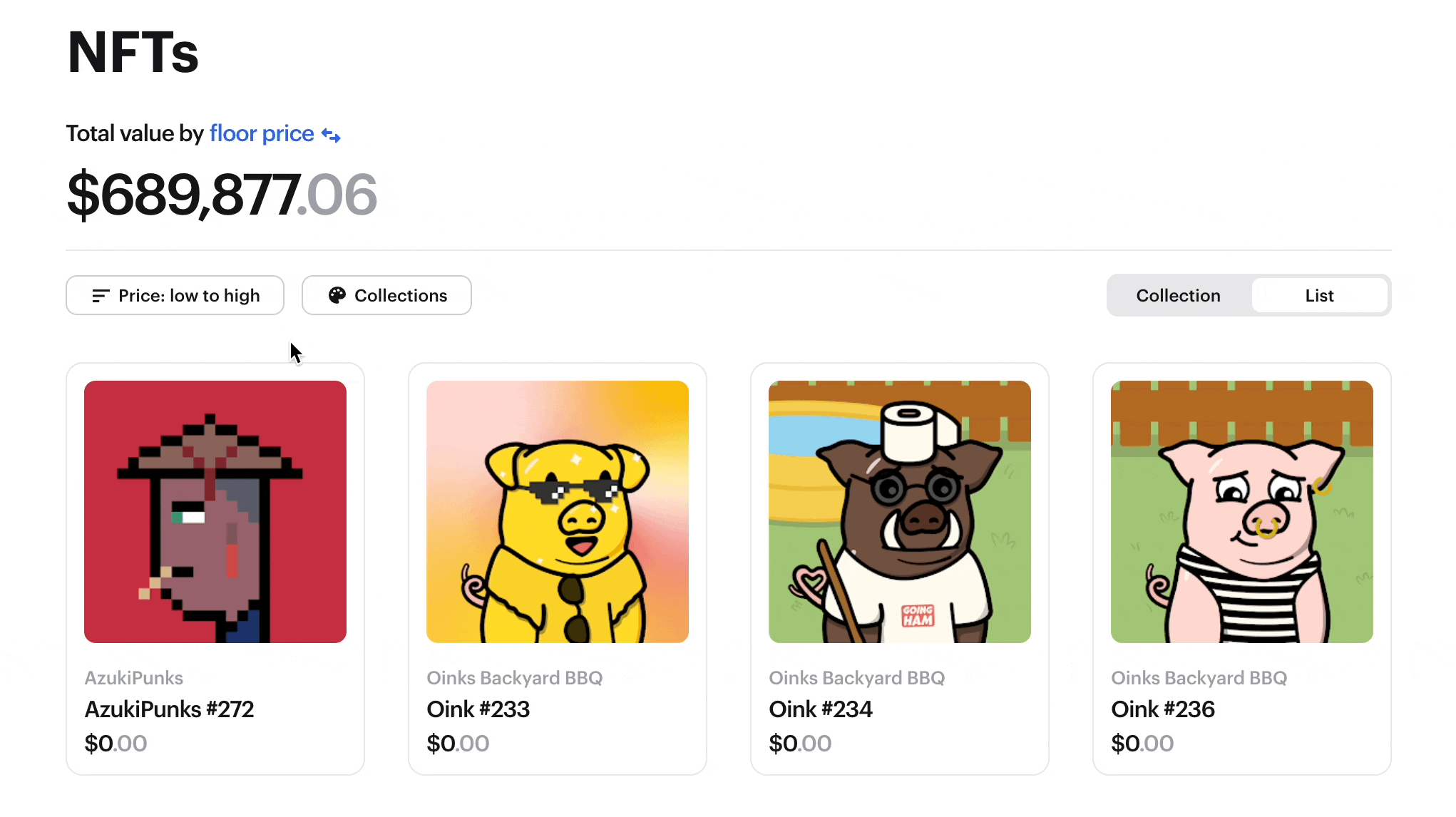 A new home for your NFTs. Ok, NFTs might seem silly when WW3 looms large. But prominent NFT folks PleasrDAO and Trippy Labs along with Pussy Riot are now raising $3M+ for UkraineDAO by auctioning a 1:1 NFT.

We know that NFTs are so much more than pretty jpegs. They represent proof of digital ownership, pushing the bounds of art, supporting meaningful causes, and belonging to a community. That's why they deserve a better home. We've been piling on new features to make your NFTs shine:

🎁 Sort by price, age, collection and recently added (new!)
📊 View floor price/last price
🤳 Push notifications for buying and selling (+ minting coming soon)
⌚️ NFT widgets for your Apple watch and home screen
Aurora network is live. Aurora runs Ethereum contracts on the NEAR blockchain and brings all the advantages of L2: speed, low fees, and scalability. Oh, and it's carbon neutral. Now you can track and trade on 8 chains and send assets between different networks with the new multichain bridge.
Synapse Pool is available across 6 networks. Synapse is a cross-chain liquidity network for bridging, swaps, and yields. With Zerion you can now track Synapse's liquidity pools on Ethereum, BSC, 0xPolygon, Avalanche, Optimism, and Arbitrum.
Community updates

Zerion at ETH Denver. Four of Zerion's team members met up with friends and supporters at the largest ETH Denver ever. They hosted speeches and workshops, spreading exclusive merch and good vibes. Even COVID couldn't disrupt that web3 wave.
Join our community call with Solana! We're chatting with Matty Taylor, Head of Growth at Solana Labs. Be sure to tune in on Thursday, 3 March 2022 at 9 AM PST / 12 PM EST on Discord. Hint: major product announcement coming soon!
---
Peace,
Your friends at Zerion

P.S Remember you can always chat to us on Discord or tell us what you want to see on our public roadmap. For support, check out our help center.
Note: The Zerion Community Update is usually delivered directly to our subscribers via email. Unfortunately, email marketing platforms like Mailchimp and Sendinblue have banned crypto projects from using their services. Until we resolve this, we will continue publishing the full version of our community updates on this blog.