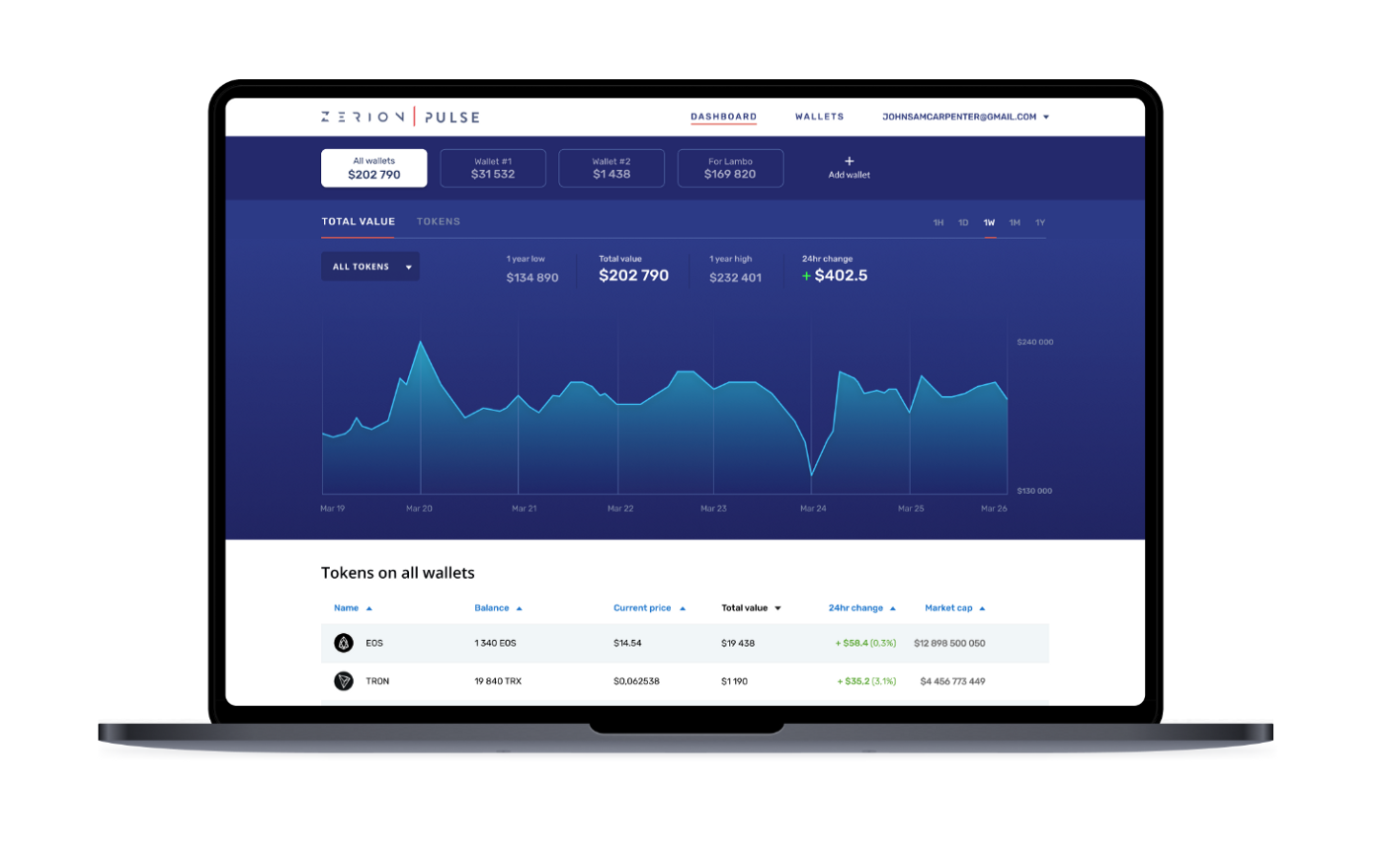 We are launching Zerion Pulse to provide you, our community of users, with a seamless and secure platform to track and manage crypto funds. Zerion Pulse is the all-in-one portal for managing blockchain-based investments with automated portfolio analytics for Ethereum and Bitcoin wallets.
With the overwhelming number of crypto companies in the blockchain industry today, it's a challenge for investors to manage multiple wallets, and determine the right company to invest in, at the right time. Zerion Pulse enables cryptocurrency investors from any experience level to effectively manage their cryptocurrency portfolios and wallets, and ultimately reach their desired investment goals.
Zerion Pulse also pairs the advanced tracking capability with real-time updates on prices, project status, and market news, giving investors all the latest developments to have full financial insights.
Zerion Pulse has two key features:
An Automated Portfolio, that tracks all token activity and eliminates having to manually follow up on trades in the fast-moving marketplace. Zerion Pulse synchronizes portfolios based on transaction history, and automatically evaluates information pulled from the blockchain to illustrate token performance. Embedded in an intuitive user interface, these advanced features enhance token management and leverage automated processes to streamline investment decisions.
An Intuitive Wallet Interface, which enables trustless transactions and secure token accessibility, without giving anyone else access to funds in wallets, or having to log-in. The Pulse wallet is a seamless interface for transacting tokens for all investors who care about the security of their funds. It integrates with hardware wallets like Ledger and Trezor, as well as MetaMask, and then connects to the automated portfolio to provide a unified investment analysis.
We're thrilled to supply investors with what they need to navigate within the crypto investment space and make well-informed token trade decisions. Zerion Pulse will not only be a useful tool for facilitating successful transactions, but also bring forth our company's vision for a truly decentralized investment economy.
You can request early access to Pulse here.
Like what we are doing and think you can help us? Email us at [email protected] and join the team!