Zerion has written and deployed the smart contracts for the world's first instant crypto-backed loans. We have partnered up with the Nexo team from the seasoned overdraft loan provider Credissimo in their move into blockchain technology.
What is Nexo?
Nexo is a crypto-backed loan provider. Its creators are part of Credissimo, who have been offering overdraft loans in the European financial sector for more than ten years and have millions of clients across the continent.
Crypto-backed loans from Nexo are instant, allowing crypto holders to borrow against their crypto, rather than selling it. For investors, this can be very useful if they see an investment opportunity but do not want to cash out money they have in other assets, like stocks, bonds, or crypto coins.
Nexo will offer loans specifically for crypto investors. It allows investors to deposit their current assets in their own Nexo wallets and take out loans to make new investments, for example for an ICO, while keeping their original coins and all the upside potential they have.
The tokens in the Nexo wallet secure the loan until the investors repay the loan with interest, similar to a mortgage on a house.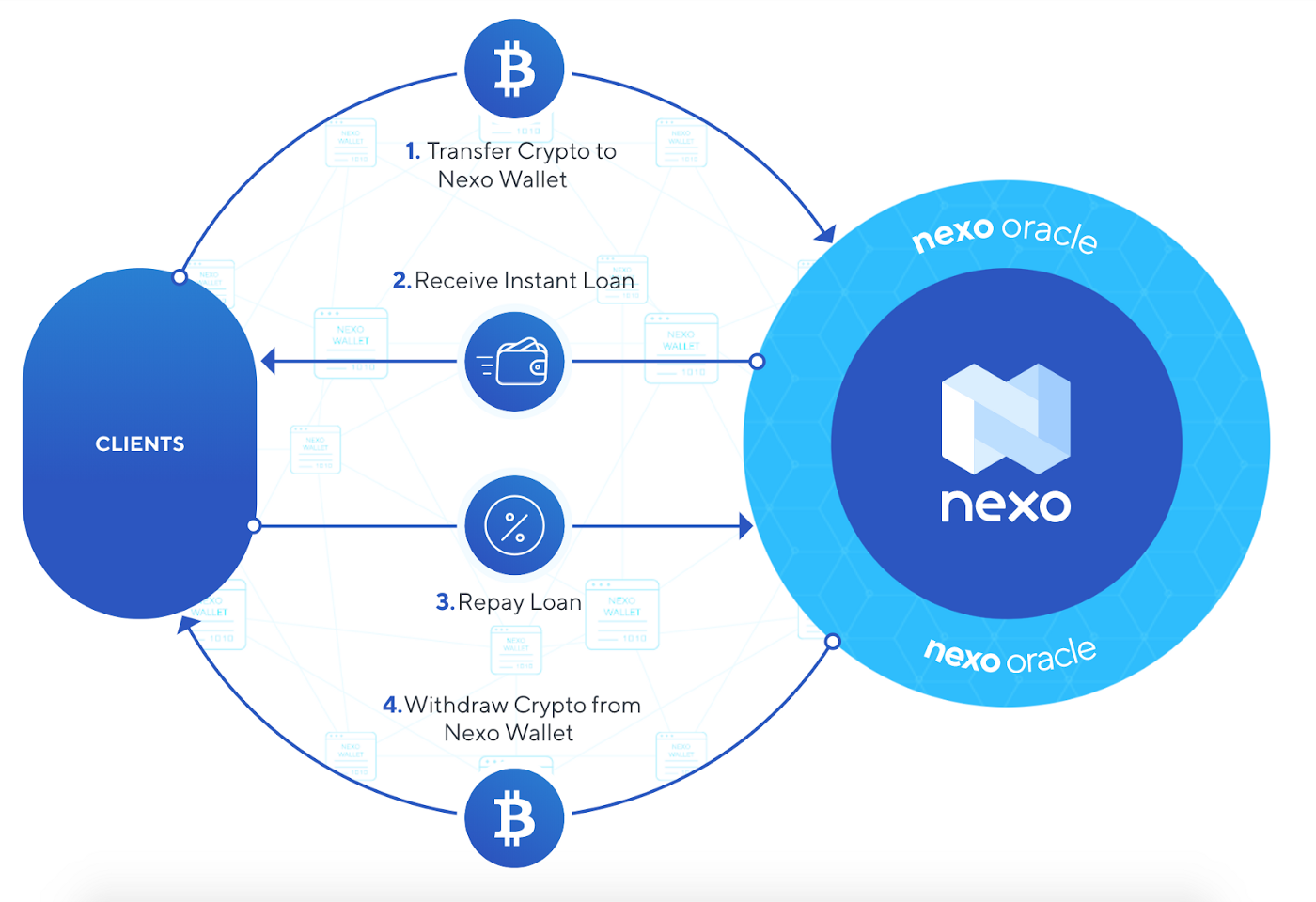 Partnering for success
NEXO tokens are a valuable addition for traders with market expertise. This also means that we worked hard to ensure that is up to the highest standards on the underlying technology. We implemented a smart-contract for the Nexo token that encapsulates standard ERC-20 logic along with a custom vesting implementation. Click here to see the source code on Github.
The smart contracts lock a large number of tokens in team-related addresses for future use as funding reserves, to ascertain the flexibility of the project to react to different growth scenarios. At the same time, we integrated the potential for future airdrops into another set of retained tokens that the Nexo team can use to further build its community when it deems this useful.
You can find more details about the structure and use of the Nexo tokens in the Token Terms.
The value to investors
Nexo offers several significant improvements on traditional lending institutions. Firstly, Blockchain technology will secure the NEXO wallets. Secondly, Nexo requires no monthly payment if wallet balance is within the set limit. Thirdly, Nexo also gives out a free credit card investors can use to spend their overdraft loans.
Lastly, Nexo states that its token will be 'the world's first U.S. SEC-compliant dividend-paying asset-backed security token with additional utility features, that will be offered as a security to qualified investors in accordance with U.S. and other laws.'
We are excited to power a unique opportunity for investors to get a token that pays dividends like common stocks, and that allows smart investors to leverage their gains to push the market further ahead with new investments.
For exciting projects in the field, always keep an eye out for Zerion-powered ICOs and Airdrops, and join us in talking about them on our Telegram.
Want to work on the future of the blockchain? Join the Zerion team, email us at [email protected]
Disclaimer: We are not providing investment advice. Always inform yourself about the risks and potential returns before any investment you make.