In March, we introduced Zerion fees for swaps on all networks and sidechains with the exception of Ethereum. These fees are then sent to treasury-like reserves in preparation for a decentralized future.
Starting August 29, we're adding a Zerion fee of 0.5% for swaps on the Ethereum network.
Holders of a Genesis Card will not only have the Zerion fee waived for swaps on all chains but will also enjoy advanced trade routing.
Soon, we're also bringing premium features to power our users with advanced DeFi & NFT tracking and investing tools. The Genesis Card will act as an NFT membership, unlocking access to these features.
Before discussing what those features could be and how to get them, let's briefly explain what's driving this move.
0 to $150,000 in 5 months
Over the past months, we saw that our users are willing to pay for a valuable service.
We introduced a 0.5% fee for Zerion swaps on Layer-2 and alternative Layer-1 networks. These fees went straight into multisig wallets. Funds are safely held there while we consider ways to involve the community in managing Zerion's future.
This fee is still less than what many wallets and centralized exchanges charge for regular swaps.
Yet it generated over $125,000 for Zerion's multisigs. You can see these funds in the multisig address for Avalanche and Optimism as well as the one for all other networks.
We also see that mainnet Ethereum is still the most popular network for Zerion users. So starting August 29, we're adding a 0.5% fee to Zerion swaps on Ethereum. This will help to accelerate our path towards decentralization.
There is, however, a way to trade with 0% Zerion fees: buy and hold a Zerion Genesis NFT aka a Genesis Card, which acts as a fee waiver. Zerion still benefits from that: secondary NFT sales commissions added another $25k to the treasury.
In the near future, those Genesis Cards might become even more useful.
Genesis Cards: the key to premium features
People who got Genesis Cards are not just holders, they are members of a tight-knit community: active citizens of Web3.
They might swing trade, mint and flip NFTs, scoop undervalued DAO tokens, or just regularly buy more ETH. What they have in common is that they don't passively hodl.
For them, Genesis Card is a no-brainer: trade with 0% Zerion fees (of course, gas and DEX fees need to be paid).
Common Zerion Genesis Card gives you zero fees until March 26, 2023,
Rare Zerion Genesis Card gives you zero fees forever.
Genesis Cards are available on OpenSea, Rarible or directly in the Zerion app.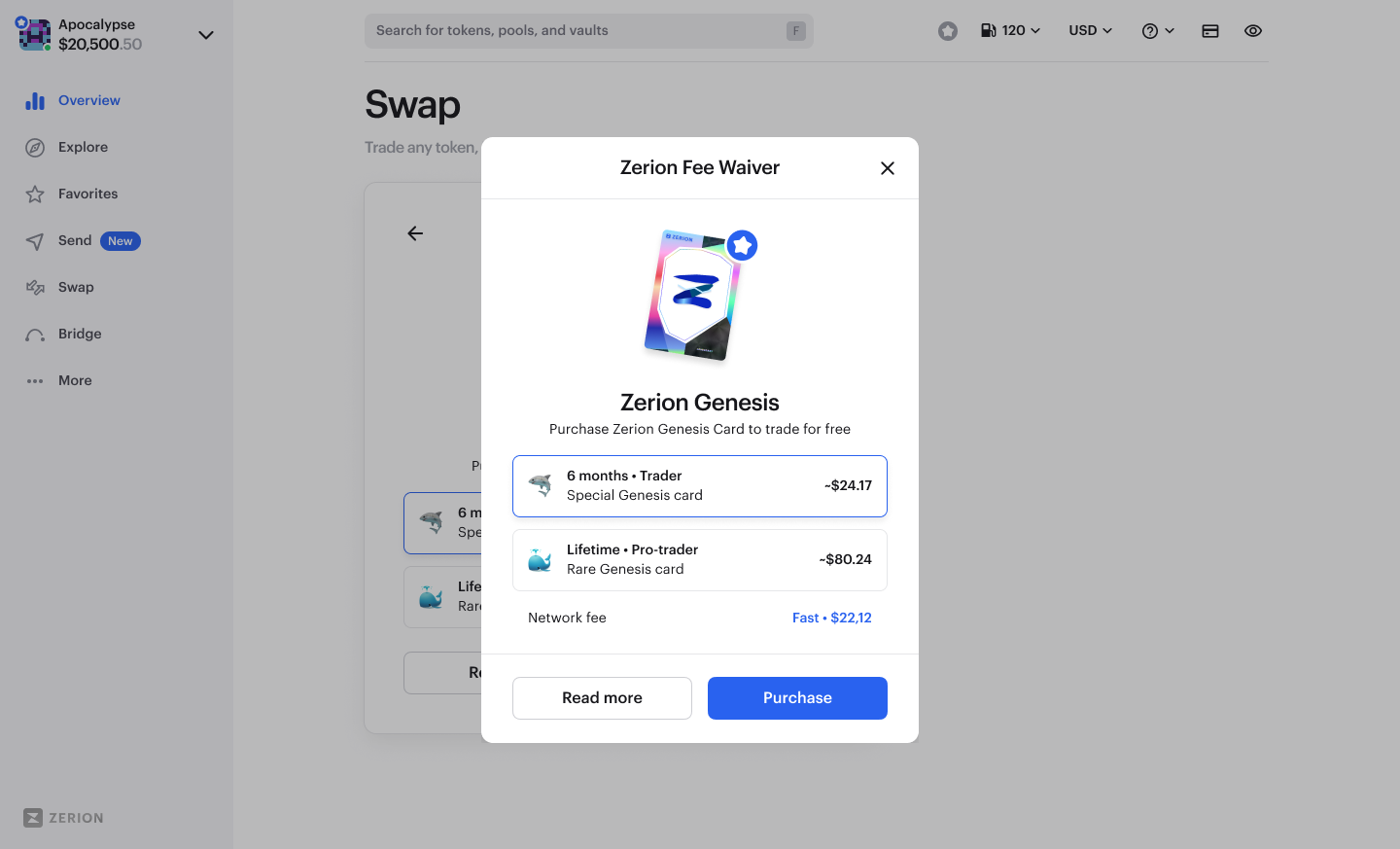 Genesis Cards will also be the key to unlocking premium features for advanced users.
Starting August 29, Genesis Card holders get advanced trade routing:
Finding the best rates across 10+ liquidity sources: not only 1inch and 0x but also Hashflow, Paraswap, Uniswap, Curve, and other DEXes and providers,
Trading complex DeFi tokens such as liquidity pool positions or Aave aTokens in a single transaction,
Always taking into account gas costs and slippage.

Over the next 3-6 months, we're building key features to provide the best experience for DeFi and NFT portfolio management across 10+ networks. This may include advanced trade routing, bundles, trading notes, customized notifications, wallet watching, reporting, and more.
To be the first to try future premium features, you should hold a Genesis Card — it will be your NFT membership.
If you don't like Zerion's premium features you can always just sell the NFT to someone who does.
But we're sure you have diamond hands — and we're here to help you put them to good use.