After the success of the Optimism airdrop, the rumor has it Arbitrum will be following suit with its airdrop.
Although there is no official confirmation, an Arbitrum airdrop makes sense. Validating on Arbitrum is already permissionless and their own token could make rewards more attractive. Also, an Arbtrum token could be used for decentralized governance, which should also involve users and protocols.
In this post, we'll show you how you can maximize your Arbitrum airdrop chances by taking part in Arbitrum Odyssey with Zerion Wallet.
How to get the Arbitrum airdrop
First, nothing is officially confirmed about Arbitrum airdrop. However, like any Web3 project, Arbitrum should be interested in rewarding those who add value to the network.
This could include:
Building dapps on Arbitrum
Running nodes and validating transactions
Holding assets on Arbitrum and using the network — paying gas fees, which go to the foundation and validators
Providing liquidity on bridges and DEXes
Participating in governance
Funding builders on Arbitrum
The most obvious requirement for Arbitrum airdrop would be using the network. Bridge some assets and use apps.
Don't try to game the system by creating many wallets.
It's not hard to identify addresses that were created specifically to hunt the airdrop. For example, those would be new wallets that don't have assets on other networks and just do the bare minimum.
Instead, you should be genuinely interested in exploring Arbitrum.
Offchain Labs, the developer of Arbitrum, is even help you with getting to know the network with Arbitrum Odyssey.
What is The Arbitrum Odyssey
Arbitrum Odyssey is a multi-week initiative for exploring the Arbitrum ecosystem with exclusive NFTs as rewards.
Of course, no Arbitrum airdrop is promised. But it would make sense: all participants would be using Arbitrum and could later be easily identified through holding NFTs.
The general idea is that each week there is a task you can complete and later claim an NFT via Galaxy.
Keep in mind that even if you missed some deadlines you can still do the tasks and all your actions will be recorded on-chain. Even without the NFTs, these transactions might still count towards the Arbitrum airdrop eligibility.
To participate in Arbitrum Odyssey you would need a non-custodial wallet that supports Arbitrum.
⏸️
Sadly, Arbitrum Odyssey is now on pause. We'll update this post once it restarts. You still can and should use Arbitrum!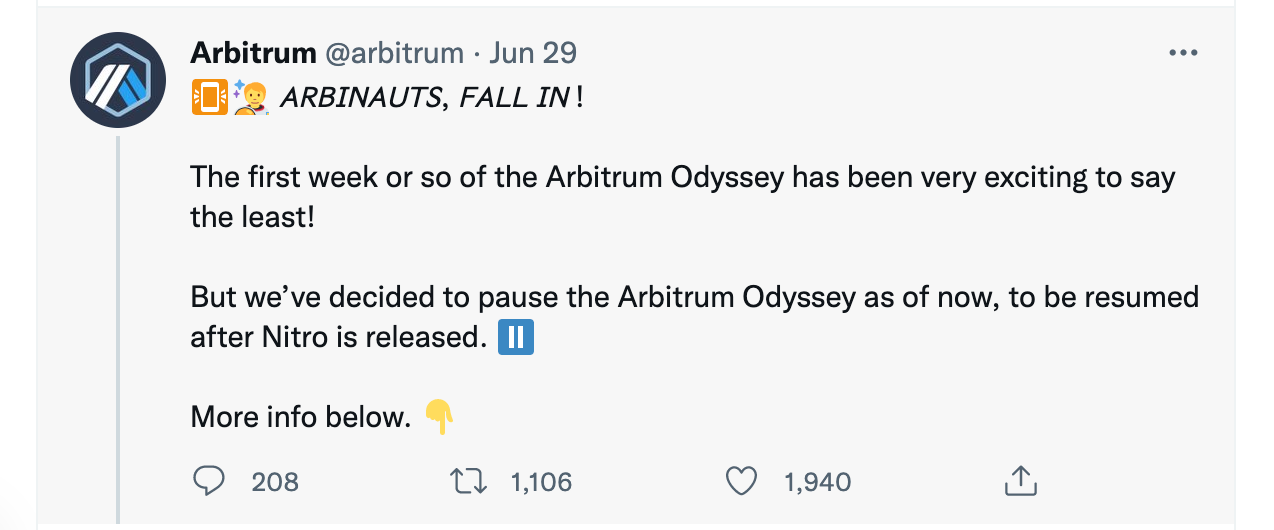 What is Zerion Wallet?
Zerion Wallet is the perfect fit for Arbitrum Odyssey: it supports Arbitrum right away, you don't need to set up RPC or manually add tokens. All your tokens, including LPs, debts, and rewards, are neatly listed.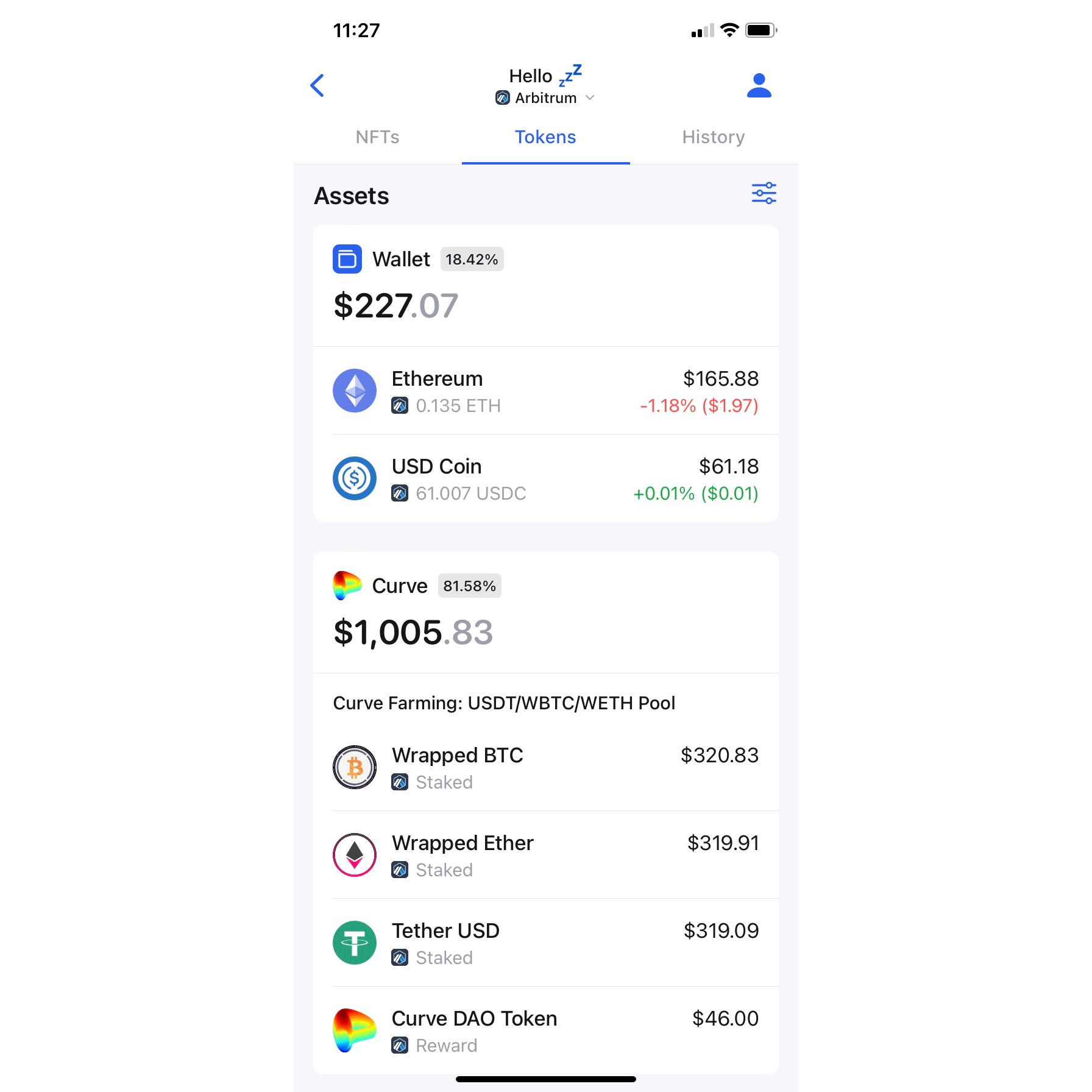 Now that you have a wallet, let's dive into tasks for Arbitrum Odyssey.
Bridge to Arbitrum — Week 1
The first task is to bridge ETH (no minimum, but only ETH counts) from any chain to Arbitrum with one of the bridges/exchanges below that were selected for Odyssey.
Fiat-on-ramp:
Swap any assets into ETH to Arbitrum:
Hashflow
Bungee
Varen
Router
Rango
Debridge
LiFinance
Rubic
Transfer ETH into Arbitrum:
Degate
BoringDAO
Celer
Composable
Connext
Hop.Exchagne
Multichain
Across
Zerion's bridge aggregator supports many of these bridges and can help you find the cheapest and fastest. Just make sure that the bridge used by Zerion is on the list.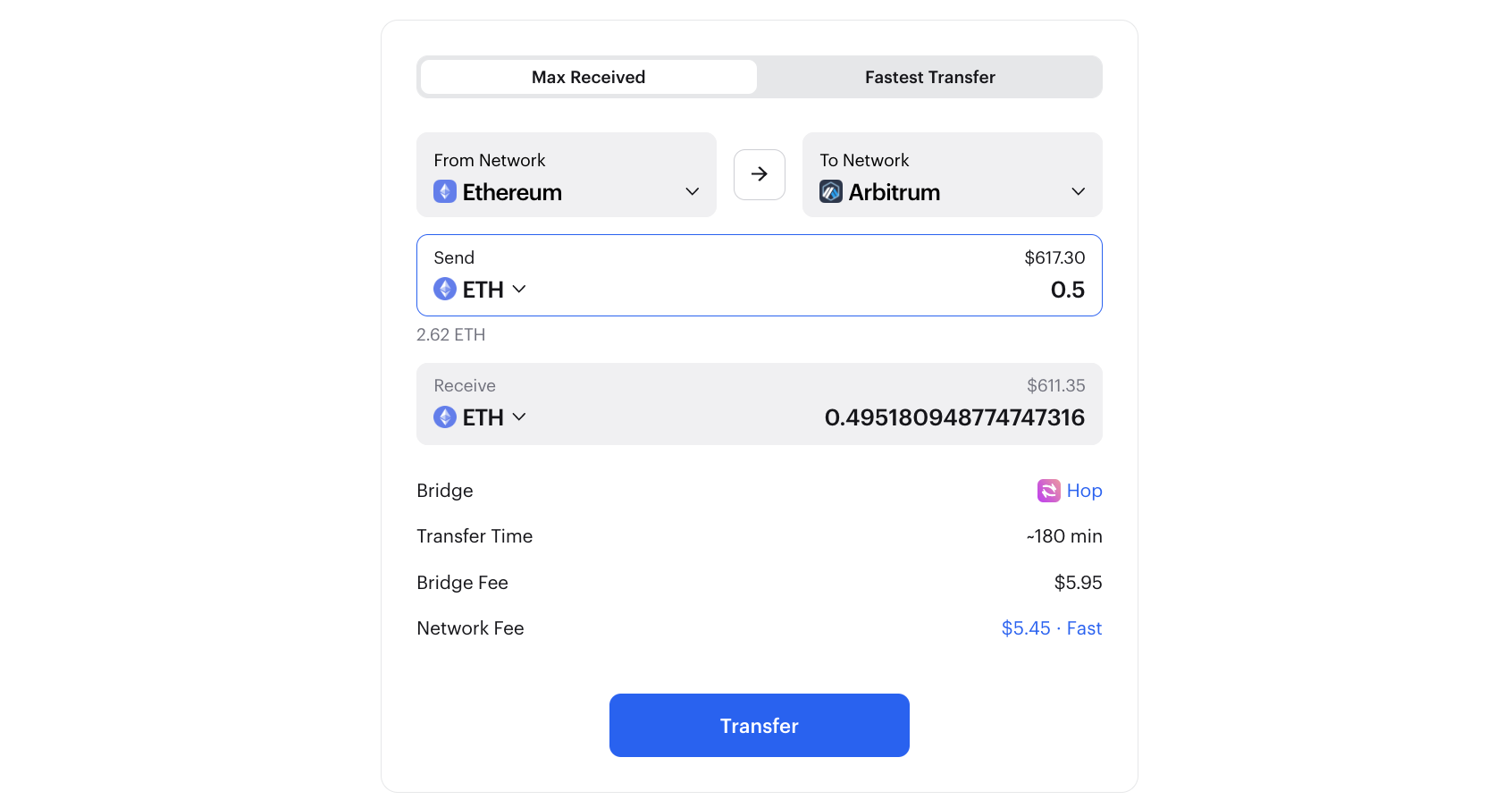 To get the NFT, you need to bridge ETH by June 27th, 12:59 pm EST (4:59 pm UTC).
Then after that date, you can claim the NFT. You need to connect your wallet to Galaxy and if you're eligible, you'll see a tick like this:

👌
Note: some bridges might be slower due to high demand and lack of supply. Also, only Hop and Connext update their Galaxy eligibility in real-time. Eligibility for all other on-ramps/bridges will update on June 28 at 11:00 am EST (3:00 pm UTC).
There is no limit to the number of NFTs. So as long as you've completed the task, you'll be able to claim (the deadline for claiming is August 22nd).
Bonus NFT
If you use the bridge with the highest volume of ETH bridged, you'll get a bonus NFT.
Hop.Exchange has the highest volume by far. Perhaps that's because you can bridge from Optimis, xDAI, and Polygon and get a POAP and a chance to win a SmolBrains NFT.
How much to bridge?
You don't need to bring a whole lot because Arbitrum is built specifically for "low cost smart contracts". However, you will need some ETH and probably other assets to perform tasks in the following weeks. Now is a good time to see what protocols are participating.
Yield Protocol and GMX — Week 2
Yield Protocol is a permissionless market for collateralized fixed-rate and fixed-term borrowing and lending. To get the NFT, you need to do any of the following:
Provide liquidity ("Pool") of $50 or above worth of assets to any maturity series,
Lend $50 or above worth of assets to any maturity series,
Borrow $100 or above worth of assets using supported collateral for any maturity series.
GMX is a decentralized spot and perpetual exchange that supports low swap fees and zero price impact trades. To get the NFT, you need to complete ALL these tasks:
Make a leveraged trade with a minimum of $10 worth of assets,
Be a liquidity provider on GMX (mint GLP ) with a minimum of $10 worth of assets,
Do a spot swap on GMX with a minimum of $10 worth of assets.
Dates: June 28 2022, 1300 EST to July 04 2022, 1259 EST.
Aboard Exchange and TofuNFT — Week 3
⏸️
Sadly, Arbitrum Odyssey is now
on pause
. We'll update this post once it restarts. You still can and should use Arbitrum!
Aboard Exchange is an order-book decentralized derivatives exchange and an advisory protocol.
tofuNFT is a decentralized marketplace for buying, selling, and trading NFTs, created by SCV.Finance.
Dates: July 4 - July 11, 2022.
The tasks are TBC.
Uniswap and Apex — Week 4
Uniswap is the leading decentralized exchange.
ApeX Protocol is a decentralized derivatives protocol.
Dates: July 11 - July 18, 2022.
The tasks are TBC.
1inch and iZUMi Finance — Week 5
1inch is a DEX aggregator with limit orders and P2P trades.
iZUMi Finance is a multi-chain DeFi protocol providing One-Stop Liquidity as a Service (LaaS). iZiSwap is a Discretized-Liquidity-AMM that provides on-chain liquidity with up to 5000x capital efficiency than traditional DEXes.
Dates: July 18 - July 25, 2022.
The tasks are TBC.
Dodo and Swapr — Week 6
DODO is a decentralized trading platform that uses the innovative Proactive Market Maker (PMM) algorithm.
Swapr is an automated market maker (AMM) with fees that are adjustable through governance.
Dates: July 25 - August 1, 2022.
The tasks are TBC.
TreasureDAO and Battlefly — Week 7
TreasureDAO is a decentralized NFT ecosystem on Arbitrum that is built specifically for metaverse projects. $MAGIC is the natural resource of the Treasure metaverse
BattleFly is an experimental PVP/P2E strategy game, powered by $MAGIC.
Dates: August 1 - August 8, 2022.
The tasks are TBC.
Ideamarket and Sushi — Week 8
Ideamarket crowdsources credibility for information without centralized media.
Sushi is a set of on-chain DeFi products that let anyone swap, earn, stack yields, lend, borrow, and get leverage.
Dates: August 8 - August 15, 2022.
The tasks are TBC.
Join Arbitrum with Zerion Wallet
The easiest way to track all your participation in Arbitrum Odyssey is with a Zerion Wallet.
Zerion Wallet supports Arbitrum right away, you don't need to set up anything. It also tracks all tokens on Arbitrum, including LP positions, staked tokens, debts, and pending rewards.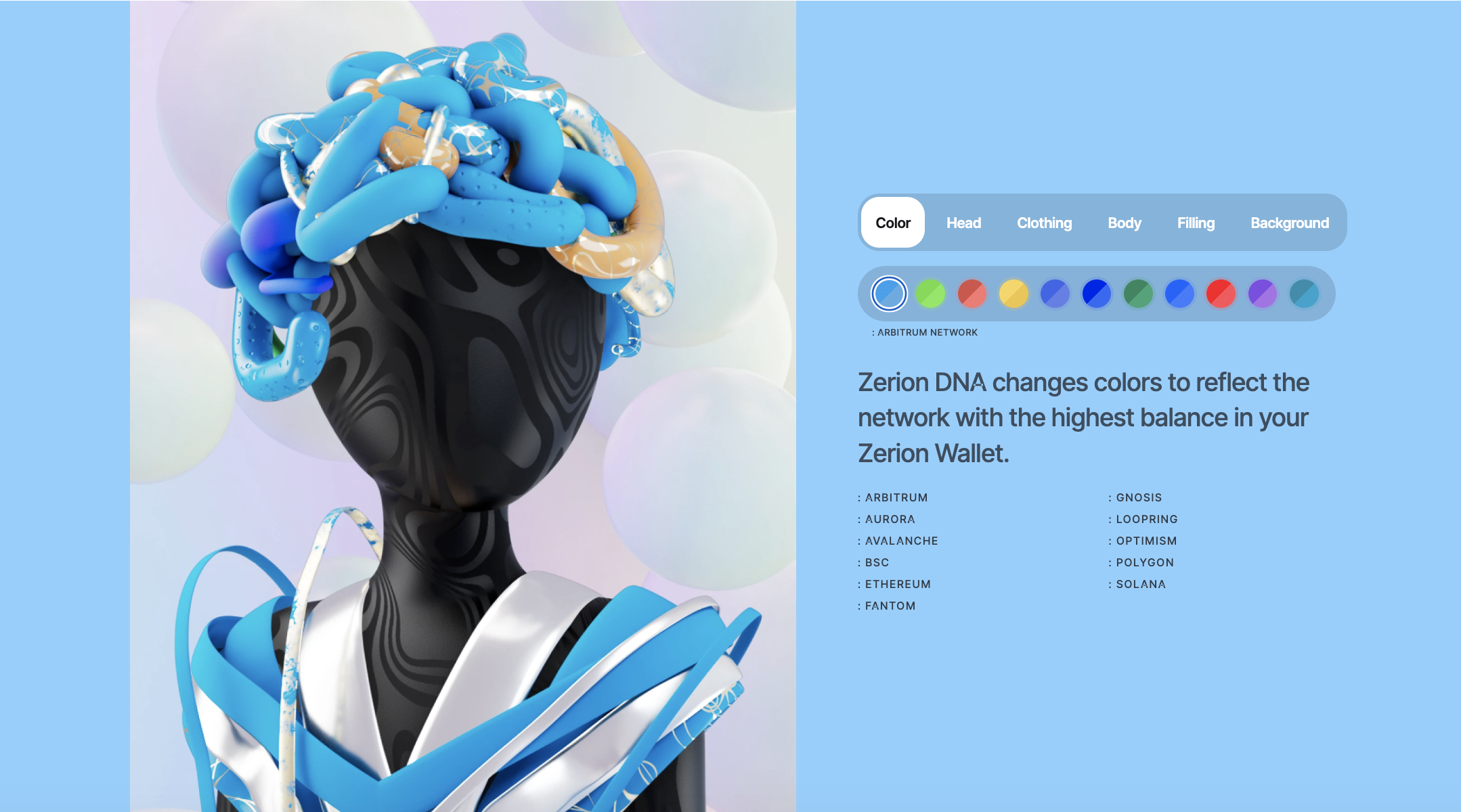 Zerion Wallet comes with an opportunity to claim Zerion DNA, a unique living NFT that changes with all your on-chain actions. If most of your assets are on Arbitrum, the DNA will feature Arbitrum's blue colors.