A Year at Zerion 🥂
It's hard to believe that 2022 is coming to an end and a new year is already upon us. Despite the year looking nothing like it did at the start, web3 citizens across the entire web3 space are pushing forward with belief and determination.
At Zerion, we're more bullish than ever. Before we pop open the champagne to say goodbye to this eventful and thrilling year, we wanted to share a few reflections on what we've accomplished in the past 12 months.
Rather than just examining features and products we released, we'd also like to highlight how our users have utilized Zerion in 2022. This includes the networks and chains they use, the NFT projects they support and the types of assets they hold.
Zerion Became a Wallet in 2022 🚀
Since 2016, Zerion has been the primary interface for web3 with hundreds of thousands of wallets connected to our products. In 2022, more 550k wallets connected to Zerion and unlocked amazing insights about their crypto positions. In Q4 this year, trading volume for connected wallets reached nearly $40M on Zerion.
But of all the milestones we achieved this year, our wallet release in May was the most significant. No longer just an interface, becoming a wallet enables users to access every corner of web3 from their phones. They can trade across 10 chains and thousands of tokens, and sign transactions in the app.
Zerion Wallet By The Numbers 🧮
We've seen quite impressive adoption across both iOS and Android since our wallet launch. To date, more than 100k Zerion funded wallets have been created.
Zerion wallet users have completed over 136k transactions with a total volume of $25M in Q4 2022 alone.
We are committed to building a multichain wallet by default and our users clearly need this. 70% of Zerion wallets hold assets across at least two networks and ~45% have a footprint on 4+.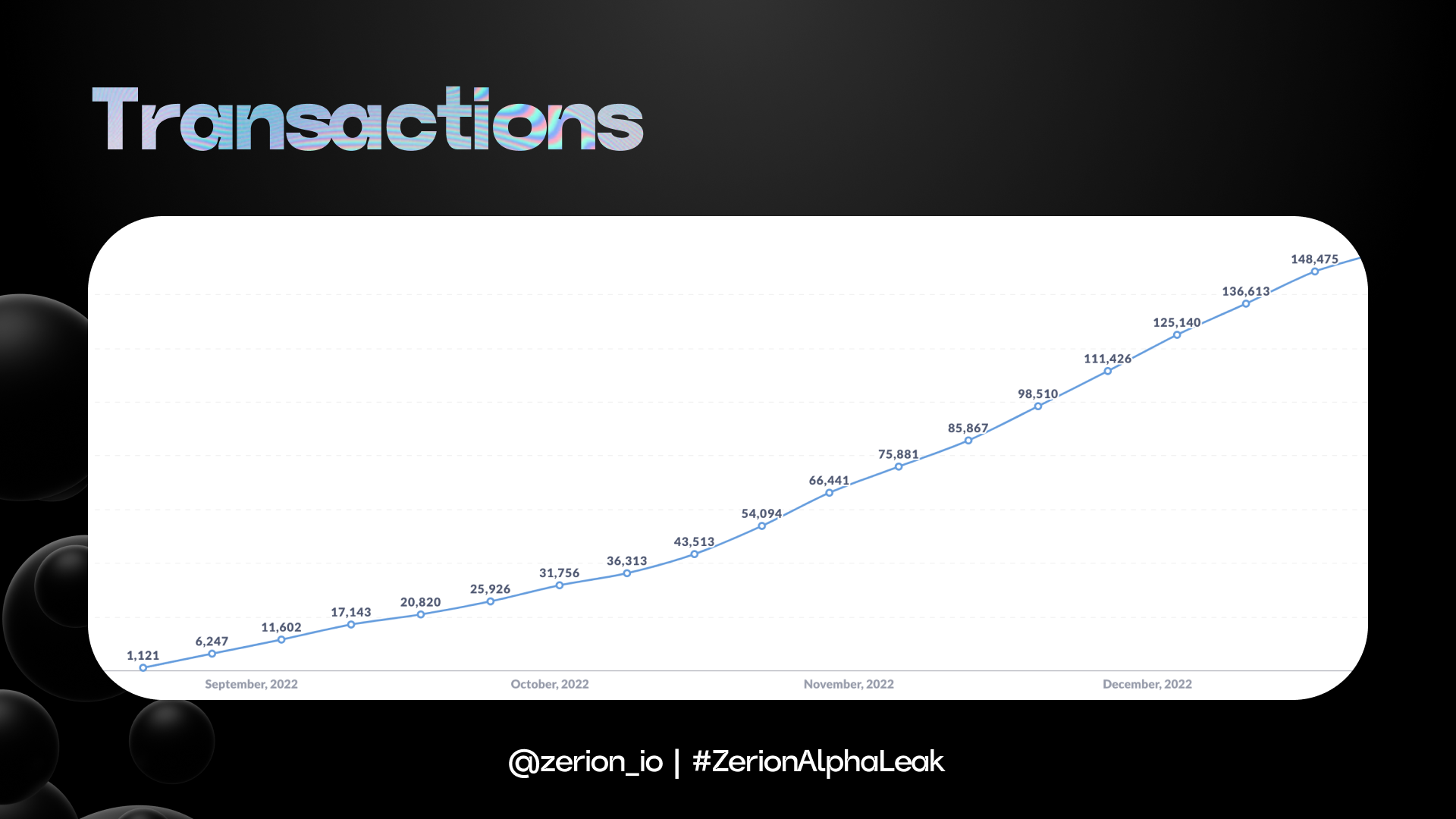 You Look Rare! 🧬
Alongside the wallet release, Zerion launched a first-of-its-kind generative NFT that evolves with every transaction users make in their wallet. Based on six attributes, Zerion DNA represents an evolving look into users' on-chain identity. Since May, over 70,000 Zerion DNAs have been minted, with over 56,000 unique holders.
We previously revealed potential uses for Zerion DNA through our October partnership with Lens Protocol. As the first wallet to integrate Lens' web3 social graph, we offered Lens handles for all DNA holders by whitelisting their NFT-holding addresses.
Our vision to continue to use Zerion DNA as a "club" where users will receive exclusive perks, whitelisting and deal based on holding the NFT. Watch this space in 2023 👀
If you haven't claimed your Zerion DNA yet, download our wallet on iOS or Android, head to the "Collectibles" tab and mint it for free (minus gas of course)!
A Post-Wallet Zerion 🤖
From a product perspective, our wallet launch represented an entirely new era for Zerion. Beginning in January 2022, we integrated Socket to enable users to bridge across every chain we support and make exploring an increasingly multichain web3 world simple and intuitive.
Recently, we launched another new phase for Zerion users with our dApp Browser, enabling access to every dApp in Web3 from your phone.
While Zerion has been multichain by default for well over a year, we were thrilled to announce multichain transaction history just as 2022 came to a close. Users will now be able to track ALL their trades, swaps, mints and deposits across every chain we support in real time on our mobile and web apps.
After closing our Series B, we are ready to continue building despite the bear market. We introduced fees for Zerion swaps, providing our first source of revenue and paving the way for decentralization. Zerion is focused on creating the best wallet for active Web3 citizens.
This is really just the beginning for Zerion and we've got a full roadmap coming in 2023 so stay tuned. Here's whats coming soon:
NFT tracking on all chains we support
Improved Transaction readability & security
EVM Agnostic/ Custom RPC
Support for additional Layer 1s
Updating our popular socketio API to REST API
The Best Community in Web3 🥰
Finally, we owe our success to the best community in Web3. This year, we tested various methods to engage our users, such as 30+ Zerion Connect calls on our Discord and seven Alpha Leak Meetups at some of the biggest web3 conferences.
Speaking of Discord, we added almost 27k new members in 2022 and averaged nearly 4k messages a day. Our most active community members shared almost 4k messages individually this year! We also reached 9k followers on Lens Protocol in just a few months.
We also created a recurring Twitter space series called Web3Wednesdays that attracted some of the biggest names in crypto, from Coinbase and Gitcoin to Ledger and Safe. Here's a clip from our chat with the Lens team:
Thanks so much to our amazing community. We can't wait to show you what we're planning next. Have a wonderful holiday season and we'll see you back in 2023! ❤️