Trade every DeFi asset on mobile
Zerion is now the largest mobile exchange for DeFi assets, and it works with your favorite crypto wallet 🎉
We've written extensively about the DeFi experience from the perspective of desktop users — but there's very little to be said about the look and feel of decentralized finance on mobile.
That's because until now, it largely hasn't existed.
Our latest update to our Android and iOS apps changes this, bringing the full DeFi experience to anyone with a smartphone:
✅ Invest in thousands of DeFi assets, directly from your phone. Our execution engine scans every major decentralized exchange and automated market maker to give you the cheapest rates with minimized gas fees.
✅ Sign transactions with any wallet. We aren't locking you into a single wallet — Zerion supports TrustWallet, MetaMask, Rainbow Wallet, Pillar Wallet, Argent, imToken, and many more!
Why mobile dapps are so rare
The story of mobile dapps is a stark deviation from the trustlessness and composability we've come to associate with DeFi. Tech giants like Apple and Google have historically made it difficult for dapp browsers to be accessible through their app stores. In 2019, Google Play briefly suspended MetaMask due to "deceptive services". Around the same time, new Apple guidelines made all dapp browsers incompliable, causing both Coinbase Wallet and Trust Wallet to remove the feature from their iOS apps.
There is effectively a wall when it comes to accessing DeFi on mobile. In the broader context of fintech, where most products and services are now designed to be mobile-first, this might just be the most important barrier that dapps need to overcome on the road to adoption.
Apps like Argent and Dharma have found a partial solution to this problem, but users are required to deposit funds into a smart contract wallet and only have access to a limited suite of DeFi features.
Bringing the full DeFi experience to mobile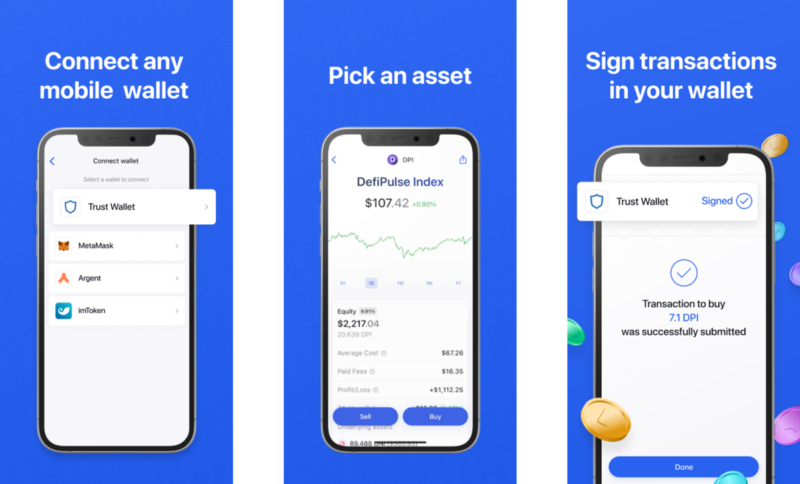 We're bringing the full DeFi experience to your mobile phone — and this time, it's as easy as downloading a single app.
For both Android and iOS users, Zerion now supports trading for every DeFi asset available on our web app. Transactions are signed via WalletConnect on mobile, which means you can connect to with any mobile wallet that supports this integration.
This is the first time that DeFi users will be able to manage their entire DeFi portfolio directly from their mobile phones. It's never been easier to explore the market, trade assets, invest in liquidity pools, and borrow funds while on the go.
We're on a mission to drastically improve the DeFi user experience — and we're proud to say that this latest update is a huge step in that direction.
What better time to get DeFi in your pocket?
👉 Download Zerion on iOS
👉 Download Zerion on Android
---