Zerion has officially acquired MyDeFi — expect exciting things!
The past year has seen an unprecedented amount of innovation in the DeFi space, and things have been no less different at Zerion. In December 2019, we successfully raised $2 million in our first seed round. This year, we integrated our largest number of new protocols and revamped our Android and iOS mobile apps. Today, we're incredibly excited to announce that we recently acquired MyDeFi!
MyDeFi
MyDeFi was created in September 2019 by Baptiste Grève with the vision of giving DeFi users an easy way to view their current portfolio balance across many protocols. Since then, the desktop and mobile app has grown in popularity and now supports a wide range of protocols including TokenSets, Compound, Maker, dYdX, Synthetix and Augur.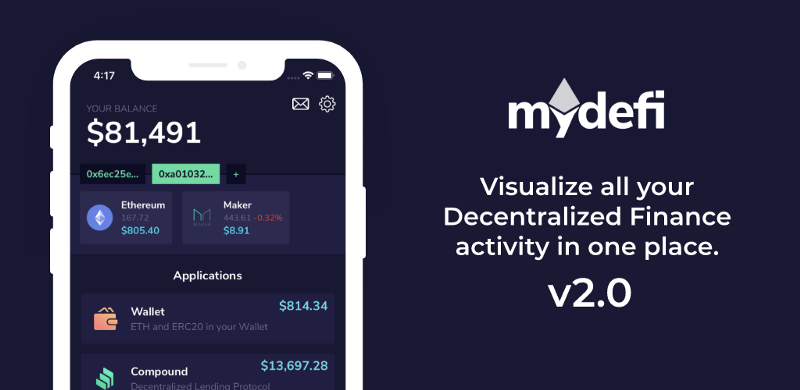 Coming together
Baptiste Grève originally reached out to a number of companies with the proposition of an acquisition, yet eventually settled on Zerion as the right company to continue the work on MyDeFi. When Baptiste reached out to Zerion at the end of 2019, we quickly realized that this acquisition would ultimately benefit Zerion users, MyDeFi users, and the broader DeFi community. It was a chance to expand on the work that MyDeFi has pioneered and take them further with the resources that Zerion has to offer. The acquisition was formally accepted in January 2020 and involved a combination of cash and stock. Fortunately, Baptiste will continue providing his support and guidance as we continue to work on MyDeFi.
"I'm incredibly excited to pass the baton to Zerion to continue the development of MyDeFi. I couldn't have hoped for a better team to move forward with the work that I started. Zerion is one of the most advanced teams in the DeFi space and we were aligned on our vision regarding the evolution of the industry. I managed to grow the MyDeFi community to hundreds of daily users and can't wait for Zerion to scale it to millions."
– Baptiste Grève, Founder of MyDeFi
From day one, Zerion has been focused on providing a comprehensive suite of features for DeFi users, facilitating both portfolio tracking and active portfolio management with deposits and transactions. We know that for many users, MyDeFi has similarly offered an easy gateway to non-custodial portfolio tracking. Zerion and MyDeFi are similar in our commitment to making DeFi simple and accessible for everyone. Our main difference lies in the functionality of the respective apps — MyDeFi is read-only and offers no historical tracking.
Since its inception, MyDeFi has garnered significant mobile traffic. We saw this as a unique opportunity to attract a larger portion of the market as well as improve the experience of MyDeFi users by sharing Zerion's expertise.
The fragmentation between different DeFi wallets, dApps and protocols is a gap we've been actively working to close for a long time. While we've been brewing some innovative solutions of our own (stay tuned!) we were also impressed by mydefiUI, an open-source React Library that potentially allows anyone to integrate their protocols to MyDeFi.
What's next
For MyDeFi users, their familiar app will remain unchanged except for the improvements that Zerion has to offer. We plan to keep MyDeFi active across all platforms and the Zerion and MyDeFi brands will remain separate.
One thing that we're very excited about is our goal to eventually make MyDeFi completely open source. Right now, only the codebase for mydefiUI is available to the public. There currently exist no open source solutions for DeFi portfolio tracking and we think this is an important step for increasing adoption and collaboration within the DeFi ecosystem.
From our side, the work has already begun. We will soon be adding a number of new protocols to MyDeFi including Aave, Curve and iearn.finance and the update will be immediately available on all platforms.
These efforts form part of our larger push to make protocol integrations across wallets and dApps a much smoother, easier process. Acquiring MyDeFi has been a step in the right direction, and we can't wait to continue the journey!
---
📢 Follow us on Twitter to get latest updates, or join our Discord server.