🚀 Here's what we've been up to this past year.
As we wrap up one crazy year, let's take a moment to celebrate some major wins:
DeFi SDK, our open-source library of smart contracts, became the easiest way for developers to add protocols to dapps
Zerion got a facelift, proving that DeFi can be both simple and pretty
Our execution engine got a major boost — we now aggregate across every major liquidity source, offering single-transaction trades at the best rates
We shipped automatic profit and loss calculations for every asset
Enjoying DeFi in the dark [finally] became a reality on both our mobile and web apps
We became the first native mobile app for DeFi 🎉
2020 was undoubtedly the year DeFi exploded, and the numbers reflect this:
Monthly active users on Zerion grew 12x from December 2019
$18 million in volume has moved through our Invest page since launching in late September
Our mobile apps now have over 16K+ active users
We couldn't be more excited, driven and committed to continue our work in 2021 — and we have you, our community, to thank for making Zerion what it is today 💙
Highlights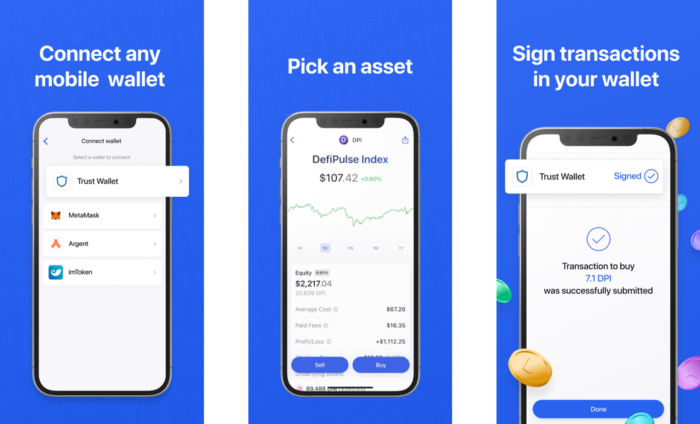 Mobile, say hello to DeFi: We recently became the first app to enable users to connect any mobile wallet and sign transactions without giving up custody. This is a major milestone for the community and marks the beginning of simplified access to the world of DeFi. Read the full announcement post here.
Watchlists on mobile: Separate your personal wallets from the wallets you watch with this slick new feature.
Get Zerion mobile in Chinese: As always, thank you to our community of volunteers who made this translation happen!
Protocol and asset updates
New liquidity pools:
Direct staking support:
DeFi Pulse Index
PieDAO
Akropolis
Track and trade:
Aave V2 collateral (aTokens)
The Graph Token
Badger
Axie Infinity
xSushi
… plus dozens of other ERC20s requested on roadmap.zerion.io
---
Got feedback? We'd love to hear from you! Chat to us on Discord or vote for new tokens and features on our public roadmap.