Here's what we've been up to 🚀
Here's our hot take: Q1 of 2021 will be remembered in history as a defining moment for decentralized finance. GameStop taught us the power of meme markets. NFTs went from fringe to mainstream. Goldman Sachs and friends have finally admitted that maybe, digital assets are a good bet 👀
It sure feels good to #BUIDL right now.
A few snippets of good news:
DeFi is full of trailblazing women. We took a moment to acknowledge the female pioneers in our community. But DeFi has a glaring gender gap — what will it take to close it?
73% of you said you want to see a monthly Zerion community call. Stay tuned for an announcement on Discord.
DeFi SDK crossed $100 million in transaction volume. View the dashboard on Dune Analytics 🚀
Highlights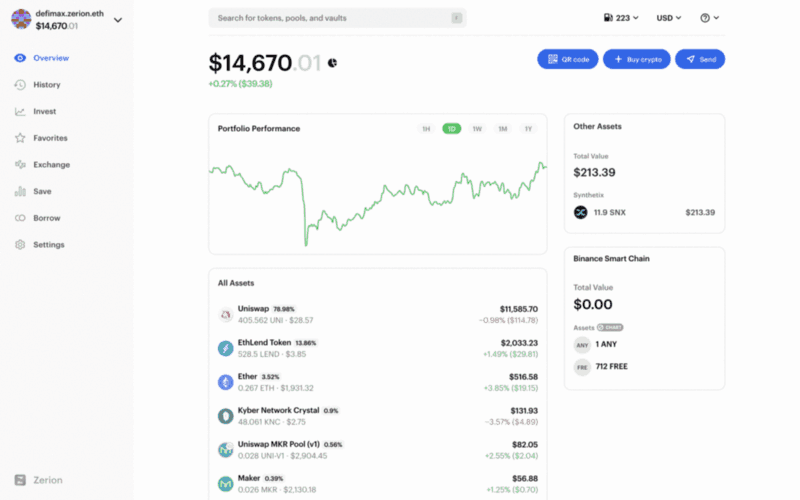 Our web app got a facelift. Real-time Ethereum gas prices, quick search for tokens, toggle currencies in a click + more UI perks.
iOS push notifications [that actually make sense]. You'll now see wallet names instead of Ethereum addresses — vitalik.eth, this one's for you.
New languages on web. We added Chinese, Spanish, French and German.
We joined 0x DAO as a bootstrap delegate. 0x is transitioning towards a decentralized governance model, and we're excited to be an early contributor to this effort. Find out more in their announcement post here.
Asset phishing attack post-mortem. A recent scam token appearing on Zerion highlights the challenge of balancing permissionless token curation and user safety. Read more about what we're doing to enhance user safety.
We're hiring. Want to join the team behind one of DeFi's most popular investing tools? Apply here.
Protocol and asset updates
Track Binance Smart Chain balances 💰
Track Polygon (previously Matic) L2 balances 💸
Got feedback? We'd love to hear from you — chat to us on Discord!
---