🚀 Here's what we've been up to in the past month.
It's been an incredibly active time here at Zerion. We're proud to say that our execution engine now offers you cheap, trustless and commission-free trading for thousands of assets directly from our interface. Call us "the decentralized Coinbase" — your all-in-one DeFi app that puts you in control.
In case you missed it, we now support single-transaction trades for:
Highlights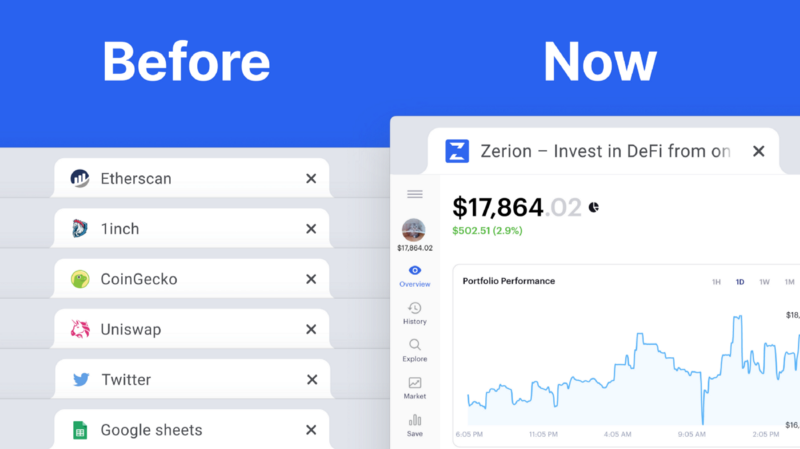 Aggregating across every major DEX with DeFi SDK: We're on a mission to stack every step of the DeFi user journey. Read about how this is possible using our newly built execution engine.
Social Tokens have arrived: Check out the new Explore page dedicated to the coolest kid on the DeFi block — social money. You'll also want to read Cooper Turley's guest post to find out why digital and creative communities are such a unique asset class. We sat down with a number of social token creators to ask how they want to see their assets on our interface, so watch out for upcoming design tweaks.
We've added several new currencies: View your portfolio in GPB, AUD, CAD, INR, JPY, TRY and ZAR, with more coming soon.
Chinese added to Zerion mobile apps: Still don't see your language? Let us know!
Protocol and asset updates
Zerion now supports single-transaction investments for all these liquidity pools:
Uniswap
Curve
Balancer
$MEME
Pickle Jars
Track your staked shares for:
RealT property investments 🏡
DODO
BarnBridge
Harvest Finance
Aavegotchi $GHST
In the media
Got feedback? We'd love to hear from you! Chat to us on Discord or vote for new tokens and features on our public roadmap.
---