The seed round was led by Placeholder, with participation from Blockchain Ventures and Gnosis.
Today, we are thrilled to announce that Zerion has raised $2 million in Seed funding to build the best interface to decentralized finance. The investment was led by Placeholder, with participation from Blockchain Ventures and Gnosis.
Before we talk about our new partners, we would like to talk a bit about Zerion. Since the beginning of our journey, we have achieved a lot:
Processed more than $16M in Compound deposits
Originated more than $19M in simple send transactions
Had over $2M in supplied liquidity to Uniswap pools in less than a month
Won an award for the Best UX in the Ethereum ecosystem at Devcon 5
Won first place at the YCombinator hackathon with the "Defy" app — a savings account based on DeFi
Became one of the best portfolio management tools for DeFi
We bootstrapped Zerion from scratch, and it would not be possible without our fantastic team, our partners, Twitter fans, and, of course, users 🥰!
Joining the DeFi movement around a year ago was a big decision for our team. We were in the blockchain space for years before that, but we almost lost hope after we saw the direction where the ICO market is taking it. DeFi was a breeze of fresh air: it was something we had been waiting for since Ethereum came out. I am glad we persisted through the tough times and focused solely on innovating in DeFi.
Today, Zerion enables non-technical users to acquire, track and manage assets on many leading DeFi protocols, including MakerDAO, Compound, Uniswap, Set, and Fulcrum. We are building an integrated experience that overcomes the fragmentation, complexity and lack of trust in decentralized financial products, that have, to date, held back the adoption of DeFi.
This seed round is an important milestone for us. Together with the DeFi community, we are designing an open economy from the ground up, and today we went one step further.
---
Investors
Placeholder
Brad Burnham, a partner at Placeholder and previously a co-founder at Union Square Ventures, led the round. Throughout the evolution of the Internet, he helped companies like DuckDuckGo and Cloudflare improve the privacy of data. Now, with Placeholder, he is passionate about value decentralization and crypto networks. His experience and principles will guide our team as we grow the company
says Brad Burnham, Venture Partner at Placeholder
Blockchain Ventures
Blockchain Ventures is a venture capital fund and a subsidiary of Blockchain, the leading provider of cryptocurrency products and creator of the world's most popular crypto wallet. The fund supports and invests in cryptocurrency and blockchain technology projects that advance the industry and provide positive societal impact. With support from its parent company, Blockchain Ventures is helping create an open, fair, and accessible financial system and promote use-cases that are revolutionary beyond finance.
It is a great honor for Zerion to have such a partner. Achieving mass adoption in the cryptocurrency (and similarly, in DeFi) space is not easy. Zerion will have guidance from the best out there, who managed to do it without compromising on the values.
says Samuel Harrison, Managing Partner at Blockchain.com Ventures
Gnosis
Our last partner in this round is Gnosis. They are primarily known for building decentralized prediction markets, but to us, they are one of the most experienced technologists committed to the space. A good example is Gnosis Multisig, which helps companies securely store over $300M in Ether and tokens. Recently, they made a huge effort in creating Gnosis Safe, which is the future of non-custodial storage of assets for both companies and individuals.
We believe that Zerion's focus on user experience merged with the security of Gnosis Smart Contracts will result in the best product on the market.
---
product
---
Special thanks
We also want to thank everyone who helped us on the fundraising journey, and especially:
Sean Li from Fortmatic team for helping us find our first angel investor
Chris Lu and Paul Yacobian for taking a bet on us and bringing the first money in
Felix Feng and Inje Yeo from Set for sharing their fundraising path
Denis Nazarov for the valuable feedback on the product
Robert Leshner from Compound for continuous support and spreading the word about our hackathon app called "Defy"
And many other people who gave us valuable feedback and shared their experience with us
FAQ
Q1: What's Zerion?
Zerion the first simple interface to the open protocols of decentralized finance.
You can think of it as Coinbase for DeFi assets, but without some of the biggest drawbacks:
A non-custodial service to invest in DeFi assets
Data (specifically, data pertaining to users' assets) is stored on the Ethereum blockchain
Globally accessible from day 1, with the same guaranteed open access as the underlying protocols themselves
Q2: What is DeFi?
You are missing out! Read more on our blog!
DeFi, built on decentralized protocols rather than centralized platforms, brings to fruition a long-pursued goal in crypto: permissionless finance that relies on zero centralized counterparties. From credit creation to insurance to asset management, the decentralized finance space is emerging to cover all aspects of the financial sector, but at a fraction of the cost of current centralized solutions.
Q3: How are you planning to use the money?
We will accelerate development and add support for more DeFi services.
P.S. there is a growing demand for Zerion backpacks, so we need to stock them up too.
Q4: How many of you are there?
We are a team of nine people distributed around the world (much like the services we build on). Don't miss a chance to meet us in person (follow our Twitter for the updates). And yes, we are actively hiring!
Continue Reading
What is DeFi and why do we need it?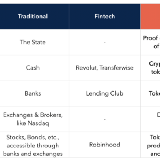 Returns in the DeFi space