We just became your all-in-one DeFi shop.
Decentralized finance has come a long way. Remember your first transaction? After juggling 5+ tabs on your browser, you gazed at etherscan's mint green block confirmation feeling like you'd just contributed to the future of finance. You felt so cool, you even told a friend about it — convinced them to finally break up with Coinbase and trade on the wild side.
Except your friend quickly got lost. And so did you. Instead of the "easy, open finance" you were both promised, you found yourselves in a world of gas prices, pending transactions, vaults, pools, AMMs, degens, and financial advice spewed out in 17-thread Tweetstorms by Chads and sushi chefs.
centralized exchanges felt a lot safer and simplermade sense
We know that most users have had little choice when it comes to how they access crypto, which is why centralized exchanges have survived for so long. But what if we told you things have changed in a big way? What if you could complete every step of the DeFi journey — from exploring new assets and placing a trade, to investing in complex primitives and tracking your portfolio — all from one place?
We've integrated every major DeFi protocol and liquidity provider, which means your favourite portfolio tracker just became the easiest and cheapest place to invest in DeFi.
Stacking the DeFi journey into one experience
Whether you're a DeFi native, finally making the jump from centralized crypto exchanges, or transferring directly from traditional finance, Zerion is now the one place that supports all of these actions:
Exploring new assets
Single-transaction investments
Accurate portfolio tracking
Exploring new assets
Coin Gecko + DeFi Market Cap + Portfolio = Zerion
Keeping up with the market has never been easy, which is why we built the Explore and Market pages. Here you can filter assets by type, sort by performance, search tags, and dive deeper by clicking on individual tokens.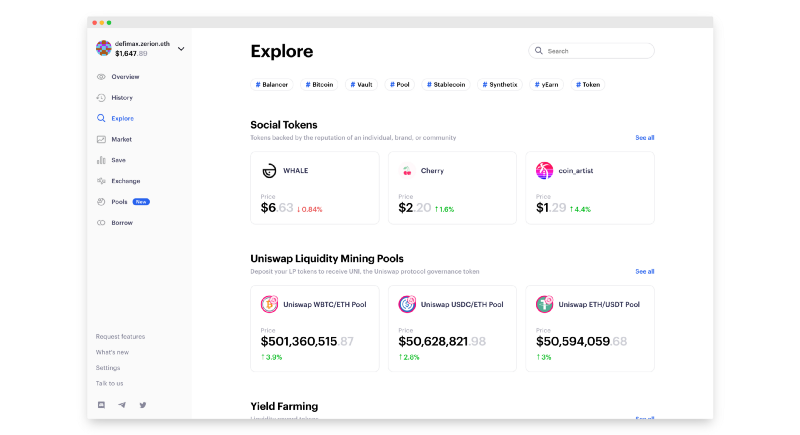 Trade every asset
Zerion lets you buy and sell DeFi tokens in a single transaction. We now support trades for thousands of tokens — including Uniswap, Balancer and Curve pools; yearn vaults; social tokens, and more.
Our execution engine picks the best route for trades, offering a liquidity channel to every decentralized exchange (DEX), DEX aggregator, and automated market maker (AMM):
Uniswap
Balancer
Curve
1inch
0x
Our new single-transaction trades with optimized routing are made possible through DeFi SDK, a library of smart contracts that acts as a universal adapter for every DeFi protocol.
An example of this feature in action is how we've made it easier and cheaper to invest in yearn vaults. We'll automatically route you between buying yTokens on Uniswap or minting them — whichever works out cheaper. For pools, you're no longer constrained to specific token pairs — you can input any asset to any protocol, and we'll find the best price for you.
For every trade, you can also select your own gas preferences directly from the interface. We'll do the hard work, you remain in control.
Staking
A core attraction of DeFi is that it allows investors to passively put their crypto to work with strategies like staking and farming. However, this process is often complicated and requires multiple tools and tabs to complete.
We recently rolled out support for $UNI and $INDEX staking on our interface. You can expect more integrations to follow, as we're making it a point to simplify the number of steps needed for people to participate in passive money-making opportunities. At launch, over $780,000 in $UNI was claimed directly through Zerion.
Accurate portfolio tracking
Our history page, one of our most loved features, has undergone a number of its own updates.
See your previous transactions directly on asset pages.
Push notifications will tell you exactly what's happening in your portfolio, all the time.
Finally, we've designed the history page to be accessible as possible, with a search bar to filter by token and transaction type e.g. "send", "deposit", "receive".
Tying it all together
Up until now, centralized exchanges have been the most convenient option for people to interact with crypto — but that's changing, fast. We've built the most user-friendly DeFi aggregator that unifies the market rather than competes with it.
everyone
The next time you tell your friend about DeFi, you can rest assured that participating in the exciting world of open finance is going to be as easy (almost 😉) as using platforms like Robinhood or Coinbase.
Buy your first ETH, make your first swap, accrue interest on deposits, participate in liquidity pools, stake tokens, and track your returns for all your assets, across all your wallets. This is what smart DeFi portfolio management should be.
👉 Access Zerion on web, Android or iOS to get started.
---