Zerion Wallet, a smart and social wallet for web3, now fully supports Avalanche!
Available on iOS and Android, Zerion Wallet offers the full multichain experience on mobile: manage your entire portfolio, trade across 10+ networks, and connect to any dapp with one wallet.
In this post, we'll show what Zerion Wallet for Avalanche can do for you, how to create it, and how to use Zerion with AVAX.
What is Avalanche?
You probably already know what Avalanche is, but just in case:
Avalanche is a Layer-1, Proof of Stake network compatible with Ethereum
An infinite number of transactions per second with subnets
Transaction finality in under 2 seconds
Thousands of validators
That's why Avalanche is the network of choice for builders from DeFi, NFT projects, and even enterprises, institutions, and governments.
To explore everything that Avalanche has to offer, you'll need a non-custodial wallet like Zerion.
What is Zerion Wallet for Avalanche?
As a non-custodial mobile wallet, Zerion Wallet stores your seed phrase on your smartphone and manages private keys for the address on the Avalanche network.
This enables you to:
Earn a yield and rewards from DeFi protocols on Avalanche
Buy, sell, and display NFTs
Sign in and use any decentralized applications
Vote for governance proposals
Zerion Wallet also supports any tokens on Avalanche right out of the box and tracks DeFi positions, debts, and rewards.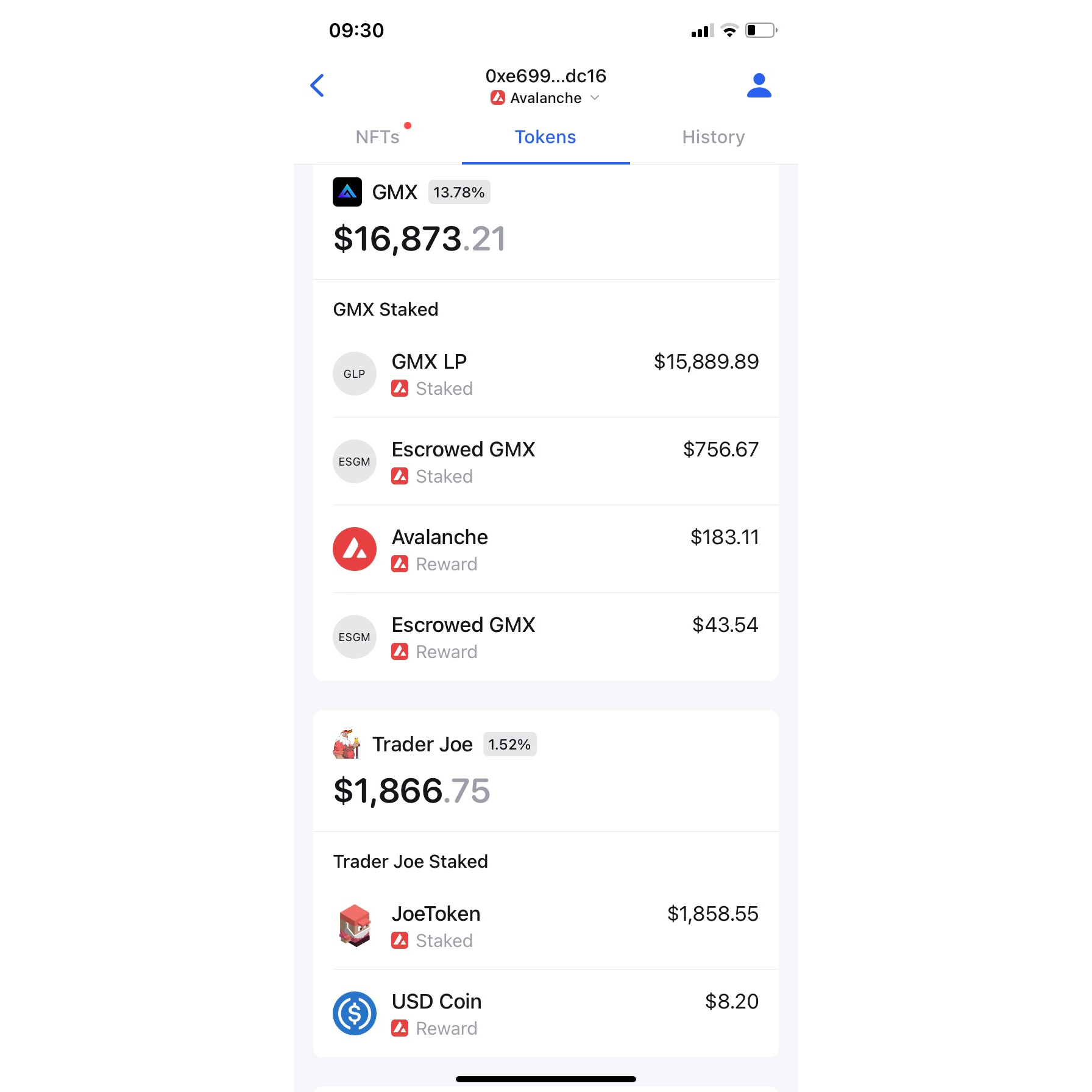 Zerion Wallet also finds the best rates for swaps across all decentralized exchanges on Avalanche: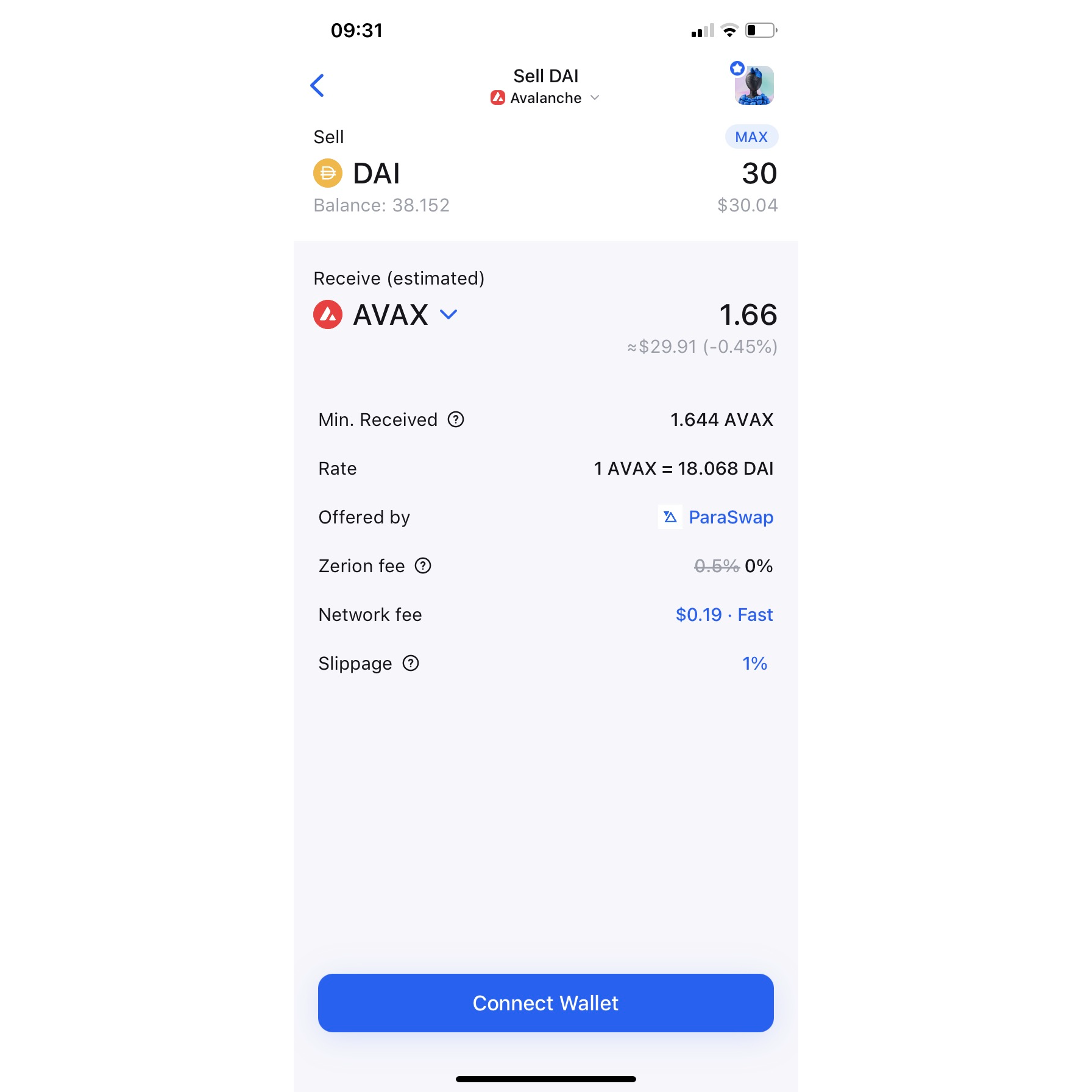 You can import your existing Avalanche wallet to Zerion or create a new wallet.
Creating a Zerion Wallet for Avalanche
When you create a Zerion Wallet, it comes with full support for Avalanche: no need to set up custom RPC or tinker with any other settings.
Here's what you need to do to create a Zerion Wallet for Avalanche:
Install the Zerion Wallet app.
Create a wallet — the address you generate will work for Avalanche and any other network Zerion supports.
Back up your seed phrase: you can later use it to restore access to your wallet or move it to a new phone.
Once you created your Zerion Wallet, you can send AVAX from your exchange or bridge from another network.
How to send AVAX to Zerion Wallet
Once you created your Zerion Wallet, you can withdraw AVAX from Coinbase, Binance, or any other centralized exchange and send it to Zerion Wallet:
Login to your exchange.
Click through to 'withdrawals'.
Open your Zerion Wallet and copy the address: tap on the profile icon in the upper right corner and you'll see your wallet's full address. This address is used for all networks, including Avalanche.
Get Zerion Wallet and mint Zerion DNA
Zerion Wallet also comes with Zerion DNA, a living NFT. Every transaction you make changes the way the avatar looks and increases the rarity of the NFT.
If most of the assets on your wallet are on Avalanche, then the NFT avatar will be mostly red.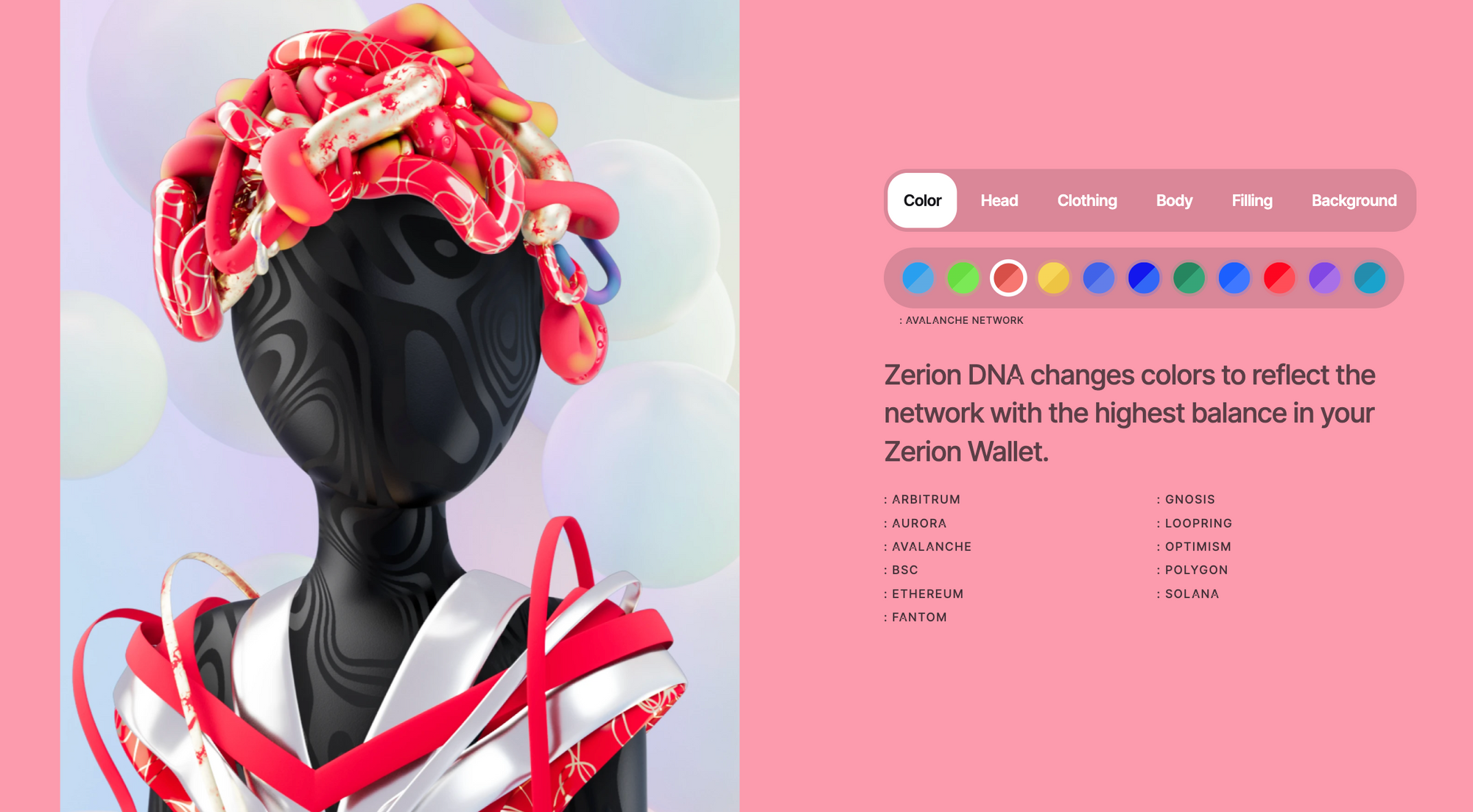 Now that you know what Zerion Wallet for Avalanche can do and how to create it, it's time to take action.