Hello Zers. Even though August is often the popular time for vacations, the Zerion team was busy and we have quite a few updates for you. Read on to learn about new utility for Genesis NFTs, better multichain connectivity, wallet import, transaction review, and more.
Spotlight: Another step towards decentralization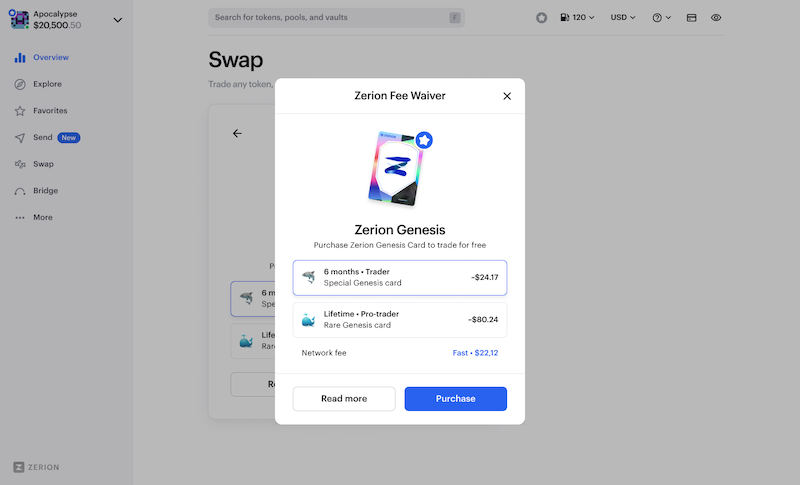 Now, Zerion fee of 0.5% is applied on swaps for all chains including the Ethereum network. However, if you hold the Zerion Genesis NFT, you can trade with 0% Zerion fees. And if you don't have it, you can buy a Zerion Genesis right in the web app — holding that will be the key for future premium features. Learn more.
---
Highlights
Connect to several dapps on any network. We added support for WalletConnect v2, enabling simultaneous multi-chain capabilities, one-time pairing for multiple sessions, and a wallet API permissions system.
Import wallets with ease. We improved the steps for importing wallets to Zerion (watch the video). This includes updating the text, tooltips, copy/paste button, QR scan, and sorting out the active wallets from the inactive ones.
Intuitively review transactions. We redesigned the swap, bridge, and transfer interface with a sleeker. The more intuitive design lets you easily review and process crypto transactions.
Wallet avatars. They now default to your Zerion DNA or the most valuable NFT owned in the wallet if you don't have a Zerion DNA. Set up your NFT avatar now (watch the video).
Better trading on Aurora. Added support for 1inch on the Aurora network to give you even better swap rates.
Stay up to speed with the space. In August, we explored the biggest stories in Web3: the $190m Nomad hack, Tornado Cash sanctions, and the Merge.
---
Community love
Dots integration in our Discord. The new bot has different welcome flows for devs, beta-testers, and Zerion Wallet users.
Interested in Zerion API? Quite a few people have asked about our upcoming REST API. Now you can sign up via this form to request an API key for when it's live.
Web3 Wednesdays. In our regular Twitter Spaces we explored Wallet Connect with its founder Pedro and Metaverse Headquarters, a tokenized community of NFT traders, investors, and educators.
Zerion Connect. These community calls in our Discord will now be bi-weekly to give you even better content. The next one is on September 15, we'll celebrate the Merge!
Zerion Community Calendar. You can track all Zerion calls and conferences in a single calendar: https://go.zerion.io/calendar