🚀 Here's what we've been up to in the past month.
Our marathon of integrations over the past month has transformed app.zerion.io from the most intuitive portfolio tracker to the easiest and cheapest portfolio builder.
You read that right. Zerion now supports buying and selling for 170+ assets; Uniswap, Curve and Balancer pools; yearn.finance vaults, and more.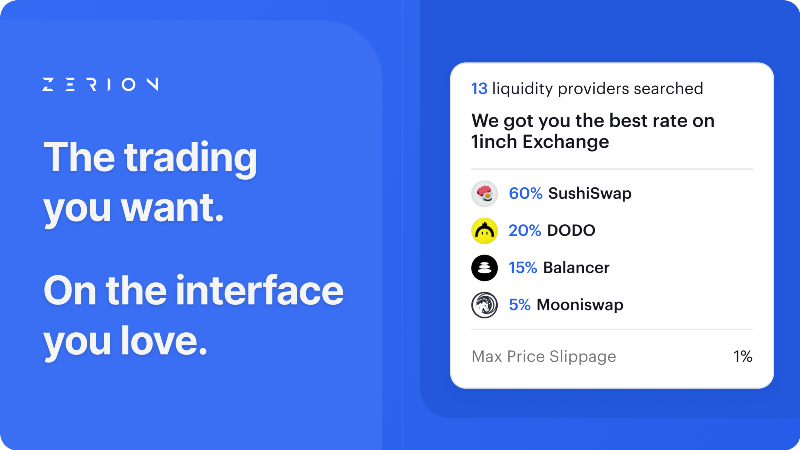 Our execution engine searches every major liquidity provider to ensure you always get the best rates. For example, if you want to buy yUSD, we'll compare prices on Uniswap with the cost of minting the token, automatically routing your transaction via the cheapest option.
Other highlights
We've revamped our landing page: We felt it was time for our website to reflect the major changes we've rolled out on our web and mobile apps. Check it the fresh new look.
Build your portfolio like a crypto native: Remember those Bankless portfolios we created back in January? Even before Uniswap's $UNI airdrop, we saw 620%+ gains — read all about it here.
Protocol and asset updates
Uniswap trading + liquidity pools — all 170+ assets on Uniswap, now available to buy and sell on Zerion 🎉
Balancer liquidity pools
Curve liquidity pools
yearn.finance vaults
1inch trading
Sashimi
Swerve
Harvest Finance
Nexus Mutual (Staking Assessment Contract)
+ dozens of other ERC20 tokens requested by our users
Got feedback? We'd love to hear from you! Chat to us on Discord or vote for new tokens and features on our public roadmap.
---