We've integrated with Uniswap Protocol, which means Zerion users can now trade just about every DeFi token directly from our interface 🚀
At Zerion, we started off 2020 with the mindset to put all efforts into making our product the easiest way to access all of DeFi. Every feature we've released over the past 6 months has inched us one step closer to this goal:
In April, we launched DeFi SDK, an open-source library of smart contracts that makes it easier for developers to integrate protocols to their dapps
In July, we released our Explore, Market and individual asset pages, offering our users a much-needed overview of the entire market from the same place they track their portfolio
We also completely revamped our mobile interface, making Zerion the most comprehensive DeFi app on mobile
Today, we are incredibly excited to announce one of the biggest milestones on our roadmap so far: Zerion users will now be able to buy and sell DeFi tokens directly from asset pages.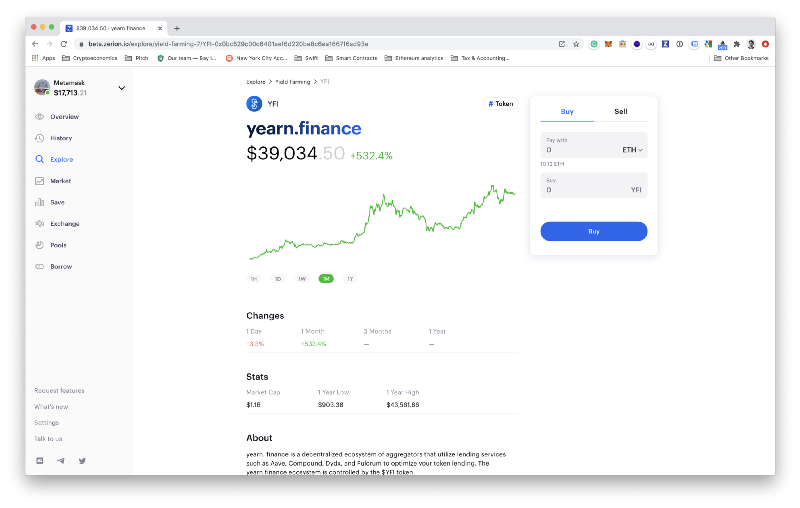 Trade on Zerion Asset Pages
Your enthusiasm is what keeps us motivated to ship the most user-friendly DeFi experience. We know this is something our community has been anticipating for a long time, and we're excited to say that this is only the beginning.
Over 2,500 people signed up to get notified about this release. Thank you for everyone's support! ❤️
Asset pages have become a key feature of the Zerion user experience. It's convenient to keep tabs on the DeFi market and track the performance of your favorite tokens from the same place you track your entire portfolio. Now, we're building on top of this to gradually shift our product into the realm of meta-aggregation — providing a unified interface for all DeFi assets.
$YFI$LEND$RENKNCUMA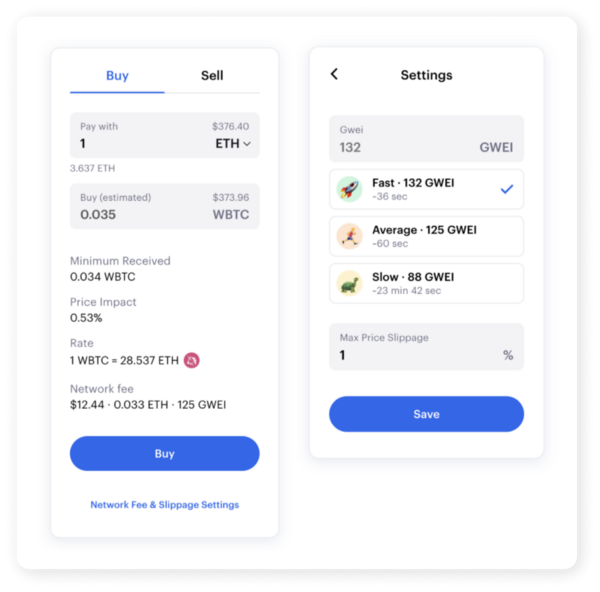 Next to each asset's performance chart, you'll see a widget that lets you choose how much of the token you'd like to buy or sell. You can set your own gas prices directly from the interface and save these preferences for later.
Scroll down past the key stats and asset description, and you'll also see your complete transaction history for that token.
Uniswap + Portfolio = Zerion 🦄 💙
We've integrated Uniswap as our initial source of liquidity and will soon be adding other major DEXs to the list, along with key integrations via DeFi SDK to support more complex transactions like liquidity pools.
It's not hard to see why Uniswap was the obvious choice to get us started. According to Dune Analytics, the protocol processes over 60% of all DeFi trades, with anywhere between $400 million and $1 billion in transaction volume per day. Zerion users will now be able to access this liquidity with trades routed directly through Uniswap — and zero added commission. As always, Zerion remains completely free to use.
What we've done is provide Coinbase-like UI to Uniswap's liquidity, making trading of DeFi tokens a much more enjoyable experience that still puts you in full control.
We're removing the barrier between your personal portfolio and your point of entry to the market. The place you buy your assets is the same place you track your portfolio, view your wallet history and evaluate the performance of your favorite tokens.
Future plans
Enclosing Uniswap's exchange layer into our interface is just the beginning. We're on a mission to become the most user-friendly DeFi interface. Over the next few weeks, we'll be integrating with a number of major DeFi aggregators and rolling out support for liquidity pools. Stay tuned, because we've got a lot planned!
In the meantime, head over to Zerion to start trading DeFi tokens today.