🚀 Here's what we've been up to in the past month.
Following our recent release of the Explore and Market pages, our major highlight this month is our aggregated view. If your assets are spread across different wallets, you'll know that accurately tracking your entire DeFi portfolio can be a pain. With Zerion, you can now combine all your wallets under one view, enabling you to see your DeFi net worth, distribution of assets across wallets, top gainers/losers, and more 💸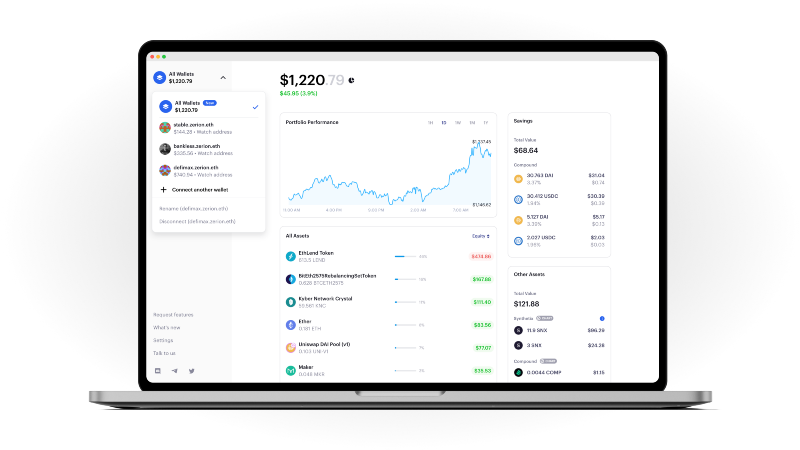 Highlights this month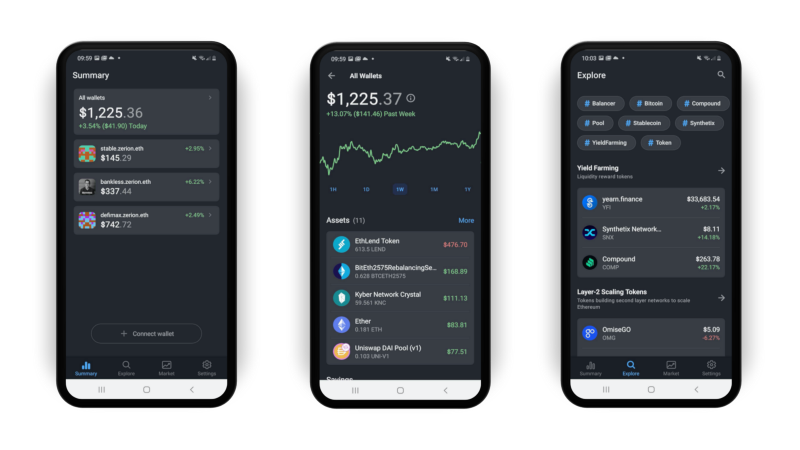 Upgraded mobile apps, in the dark: You asked for it, and we delivered 🕶 Dark mode has been one of the most requested features from our users. You'll also love these additions to the app:
– See your transaction history on individual asset pages
– Pull to refresh
– Reorder and rename your wallets
– French and Italian language support
Zerion Explore tokenlist: Uniswap recently launched their TokenLists, a way to "filter out high quality, legitimate tokens from scams, fakes, and duplicates." You can now select the Zerion Explore tokenlist when trading on Uniswap in order to filter the top tokens we put on our Explore page.
Protocol and asset updates
Our team has been working hard. In the past month, we've added tracking support for 50+ new tokens, including:
Nexus Mutual $NXM and staking
Melon Protocol funds
Moonsiwap pools
$CREAM
Neutrino's USDN
Curve staking
Matic staking
Aragon $ANT staking
DeFi Nation's $DSD
bZx vesting
mStable earnings
Blog & media highlights
Top 10 DeFi concepts everyone needs to know: If you already know them, do your friends a favor and share them. Newcomers are scrambling to get into DeFi, but let's be honest — the jargon can hit you hard. From yield farming to liquidity pools to the basic differences between wallet types, these are the terms we think everyone needs to know.
Building the DeFi investor's toolbox: Catch this podcast with Zerion's founder, Evgeny Yurtaev.
Got feedback? We'd love to hear from you! Chat to us on Discord or vote for new features on our public roadmap.
---