The phrase "metaverse" is a mix of the prefix "meta," which means "beyond," and "universe".
It refers to shared virtual worlds where land, buildings, avatars, and even names can be purchased and sold, sometimes with crypto. People can walk around with their pals, go to facilities, buy goods and services, and attend events in these locations.
The Metaverse has become one of the more interesting futuristic visions of how technology would transform humanity during the next few decades.
It can be challenging to discern what the Metaverse is, especially after Mark Zuckerberg's presence in the US media, because of all the excitement and recent Facebook, sorry Meta's name change. Virtual Reality is frequently associated with the Metaverse. However, this definition is overly narrow and misses the fact that any description of the Metaverse must encompass a wide range of elements, from blockchain technology to cloud computing platforms.
According to venture entrepreneur Matthew Ball, many firms and digital futurists see the Metaverse as the "ultimate goal".
As Ball suggests, before we look at what the Metaverse is, we should think about what it isn't.
The Metaverse is not, according to Ball:
A virtual world
A video game
Second Life
Something you log into
User-Generated Content
Much of how you respond to the subject "what is your mindset determines the Metaverse."
It's a more "embodied" internet, according to Zuckerberg, where our digital avatars mingle and interact in a metaverse virtual-reality replica of the actual world. It's like the Matrix, but nicer.
However, for Ball and many others in the blockchain world, this local perspective misses many of Metaverse's defining characteristics.
The Metaverse, according to Ball, is a fully persistent, synchronous synthesis of the digital and physical worlds. So this isn't a piece of software where you enter your name and email address to gain access; instead, it's a merging of the physical and digital worlds.
"You can walk into any experience or activity, and possibly meet practically any of your needs, from a single starting point or universe that's also filled by everyone else you know,"
Matthew Ball says, using the Nightmare Before Christmas as a metaphor.
Where did the Metaverse come from?
It's worth investigating the term's roots to comprehend the Metaverse fully. The word was coined by acclaimed sci-fi writer Neal Stephenson in his seminal novel Snow Crash in 1992, although the concept had existed since the 1980s and possibly before that.
Perhaps here is where the link between Metaverse and virtual space was born, as the protagonists in Stephenson's novel enter this new universe by donning VR goggles and leaving the "actual" world behind.
Of course, the Metaverse has grown since then and remains challenging to define.
Many of the creators and users of this growing arena perceive it as an unfulfilled "aspiration" in various aspects.
Let's look at some of the more substantial parts of the Metaverse to see what you can already do.
Today in the Metaverse
While the Metaverse's future is still up in the air, there are some ways to participate in it right now.
Decentraland allows users to enter the metaverse by creating an avatar
Decentraland is a platform that allows users to create their virtual worlds. It's one of the easier ways to enter the metaverse. On its website, Decentraland enables users to create their avatars.
You should know that to fully access the Decentraland metaverse you must have a non-custodial wallet like MetaMask. However, once the wallet is connected, it will act as your account, letting you freely travel the Decentraland metaverse and watch it grow, buy land, and build on it.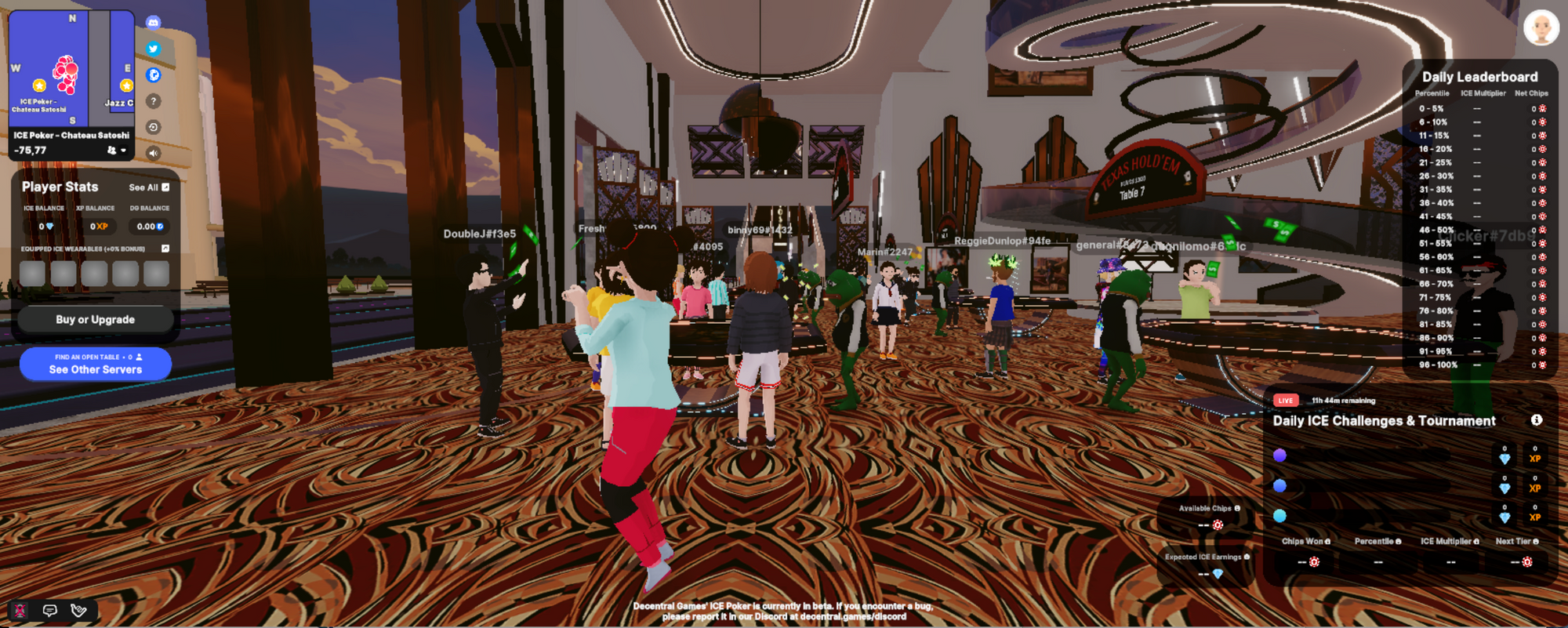 The Sandbox metaverse allows users to create, develop, and play
Meanwhile, one of the most popular decentralized metaverse games is The Sandbox. It enables users to construct, build, and commercialize virtual worlds in the digital realm.
Adidas recently purchased land on The Sandbox to build Adi-verse, its metaverse. Adidas is gearing up for Web3, already collaborating with influential NFT brands such as Punk Comic MetaHeroes, Bored Ape Yacht Club (BAYC) as well as a less-than-casual connection with Coinbase.
Individuals interested in learning more about the metaverse can visit the website's "Alpha" tab for daily updates on games that users can play for a chance to win SAND, the game's native token. The Sandbox also includes instructions and allows users to construct their demo games for free.
The simplest straightforward way to join the metaverse is to own land
While there are several ways for people to enter and gain access to the metaverse, the most direct option is to invest in metaverse land, which usually exists as nonfungible tokens (NFTs). Not for the typical investor, but buying a plot or estate in the metaverse is a surefire method to gain access to it.
Many people are thinking about buying digital property as a long-term investment. After Facebook's rebranding as Meta, the value of various metaverse coins has skyrocketed. And this brought even more attention to those metaverses. As a result, owning real estate in metaverse games may be profitable in future.
The Sandbox, Decentraland, and Crytpovoxels are three popular metaverses with land for sale. All of these can be found on OpenSea, the largest NFT marketplace.
Because the metaverse is designed to be interoperable or open, the technology is also accessible to those who cannot afford to invest. Anyone eager and curious enough to enter a true metaverse can do so.
Metaverse companies
Several organizations are already vying for the top spot in this expanding market.
Meta
Any discussion of the Metaverse's future must involve Meta, formerly known as Facebook. Meta considers virtual reality and digital representations of ourselves to be the focal point of their Metaverse.
The Metaverse, according to Meta, opens up new ways to link individuals in real-world simulations of physical locations.
Meetings for distant teams should appear less like Zoom conversations and more like "regular" office settings, as Zuckerberg demonstrated in the now-famous meme interview on CBS This Morning last August.
Nvidia
Nvidia is one of the best stocks for both artificial intelligence (AI) and gaming on the market. It's also a top metaverse stock, both now and in the future.
While many businesses are vying for a piece of the metaverse, Nvidia has already launched a profitable product. The company's Omniverse platform allows for virtual 3D design collaboration and simulation. Omniverse is used by various customers, including manufacturers, engineering organizations, and game developers.
Nvidia's graphics processing units (GPUs) should be in high demand in the long run as the metaverse takes shape.
Sandbox
As discussed, the Sandbox is one of the virtual worlds on the Ethereum blockchain where users may create, own, and monetize their gaming experiences. The Sandbox is famous for its two major mobile hits, The Sandbox (2011) and The Sandbox Evolution (2016), which have had over 40 million downloads on iOS and Android, respectively.
Pixowl, a mobile game developer/publisher, also moved its successful User Generated Content gaming IP and a large community of artists on the blockchain in 2018. The goal is to disrupt established game developers like Minecraft and Roblox by giving creators actual ownership of their work in NFTs and paying them for their contributions to the ecosystem.
Anyone can create 3D games for free with the Sandbox Game Maker. Visual scripting tools allow you to build spectacular 3D games in minutes without having to know how to code. Creators like you help to build a large metaverse full of incredible interactive creations and experiences.
Microsoft
Microsoft's PC software development is still one of the largest software ecosystems — one that Microsoft benefits handsomely from through the Windows operating system while still allowing software developers to take the majority of the value from their apps.
At Microsoft Ignite, Satya Nadella shared his vision for the Metaverse. Microsoft's current position is as follows:
Experiences: Microsoft has done a lot to improve and develop experiences, with indigenous products like Microsoft Flight Simulator and acquisitions of top game firms that have created successful series like Halo, Fallout, and The Elder Scrolls. Minecraft is a well-known game, and its inventiveness exemplifies much of what the metaverse's creator economy might resemble. Microsoft Teams is a chat and conferencing tool that could pave the stage for future workforce communication that is more immersive and embodied.
Creator Economy: Visual Studio and a plethora of additional developer tools are available. Minecraft is also teaching many kids how to make content in a relatively open metaverse. Microsoft has also invested in artificial intelligence technologies, particularly natural language processing, critical for no-code/low-code creative tools.
Decentralization: PC software creation is effectively permissionless. Microsoft is also investing in technologies such as self-sovereign identification, which might enable a decentralized and open way of verifying and owning your identity without the centralized management of services like Facebook Login.
Human Interface: Microsoft has a lot of expertise working with GameTech and making it work with hardware thanks to the Xbox game system. In addition, thanks to a $21 billion deal with the US military, Microsoft established a significant production scale for Hololens, their augmented reality device. Although Microsoft's Hololens is aimed at government, military, and corporate users, this may offer them a head start in perfecting it before delivering it to consumers on a larger scale.
Infrastructure: Microsoft is just not at the same level as Apple in terms of semiconductors, but if open roles at Microsoft are any indicator, that is about to change. For example, they're looking for engineers to assist with display engineering and artificial intelligence silicon right now. The Azure cloud infrastructure business, on the other hand, is massive and a key facilitator of applications, games, and metaverse experiences.
Decentraland
As we've briefly discussed, Decentraland is another decentralized virtual reality platform on Ethereum with NFTs as digital pieces of land used. Decentraland presents a metaverse vision in which people own digital real estate plots and develop it in the same manner they do in the physical world. These plots can be purchased with MANA, the company's token.
Users can also produce, interact with, and monetize their content and applications on the Decentraland platform.
In Decentraland, our property may be found in five districts:
Crypto Valley
Dragon City
Aetherian City
Vegas City
Fashion Street
District X
How is the metaverse related to cryptocurrency and NFT?
In general, the metaverse creates immersive digital worlds where individuals can work, shop, socialize, and play games using avatars. In the metaverse, a war is brewing between crypto-native startups and giant tech corporations like Facebook, which has rebranded as Meta.
For assets in the metaverse, blockchain can provide digital proof of ownership. The private keys in your noncustodial crypto wallet establish your ownership of goods or activities on a blockchain.
In terms of use cases, cryptocurrencies, NFTs, and the metaverse are closely related. In blockchain-based metaverses, gaming assets are traded as NFTs, often with the use of metaverse coins such as SAND or MANA. You must first purchase metaverse coins with other cryptocurrencies like ETH or USDC. After that, you can trade metaverse coins for NFTs.
There are dozens of different tokens that are connected to various metaverses. The easiest way to explore them is to check out the Metaverse Index (MVI). Created by Token Sets, this index automatically invests in various metaverse tokens. Instead of buying each of the underlying tokens you can simply buy the index.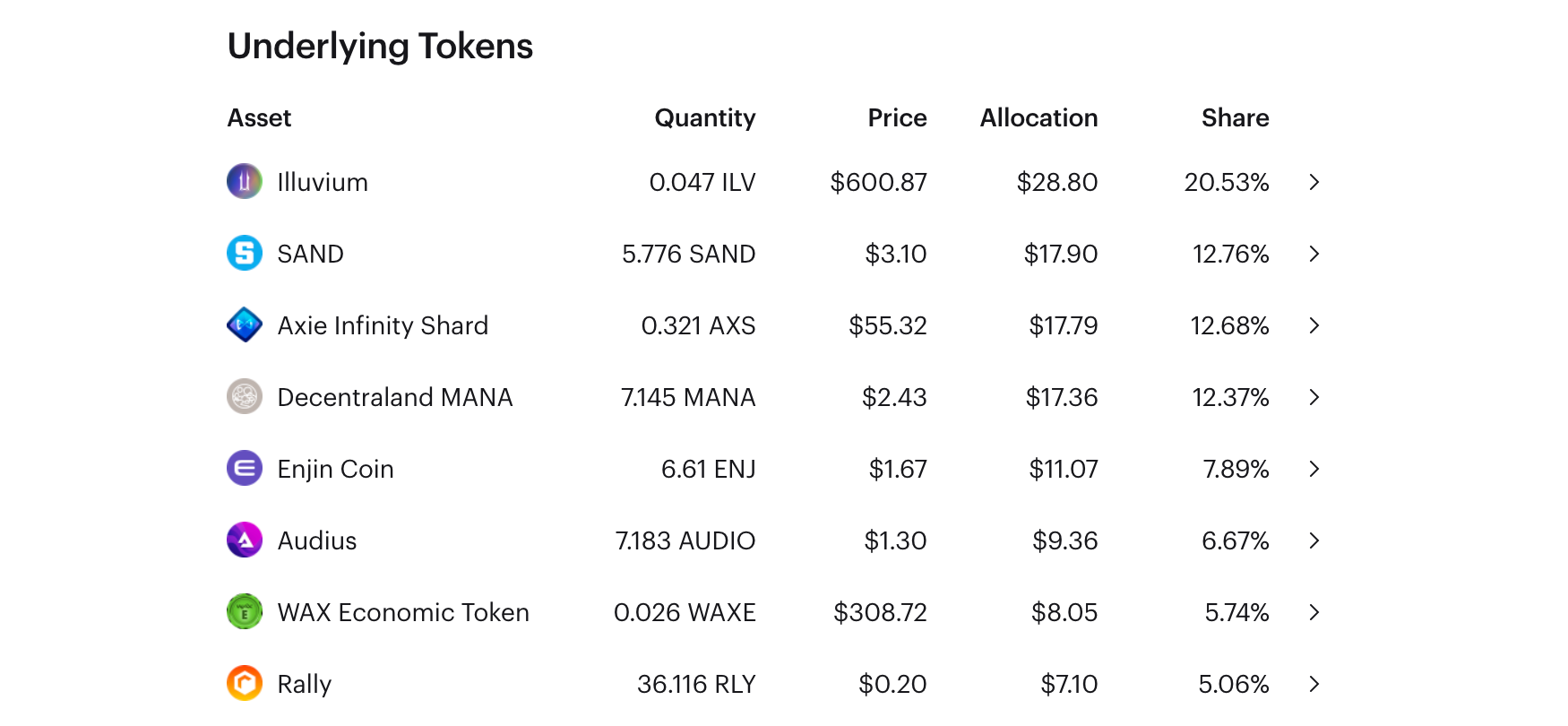 People of the metaverse, who are they?
Author Neal Stephenson is credited with coining the term "metaverse" in his 1992 science fiction novel Snow Crash, in which he imagined lifelike avatars interacting in realistic 3D structures and other virtual reality scenarios.
Since then, several advances have served as stepping stones towards the creation of a true metaverse, an online virtual environment that combines augmented reality, virtual reality, 3D holographic avatars, video, and other forms of communication. As the metaverse grows, it will provide you with a hyper-real alternate universe in which to coexist.
In online game universes such as Fortnite, Minecraft, and Roblox, inklings of the metaverse already exist. And the corporations behind those games want to be a part of the metaverse's development.
Does the metaverse already exist and how do I participate in it?
The newly renamed Meta (previously Facebook) CEO, Mark Zuckerberg, predicts that the metaverse's primary capabilities will take five to ten years to become common. Aspects of the metaverse do, nevertheless, exist right now. For example, ultra-fast broadband, virtual reality headgear, and persistent always-on online worlds are already available, though not everyone.

Some metaverse-like experiences are currently available. For example, the video game platform Roblox has dabbled in meta events such as hosting Gucci's 100th anniversary and launching the NFL's first meta store. Meanwhile, after hosting massively popular virtual concerts with Ariana Grande, Travis Scott, Marshemello, and others, competition Fortnite isn't far behind.
The metaverse's evolution may be seen from a variety of perspectives, and it's likely to follow some of the current trends:
Gaming: It's entertaining, you can meet new people, and you can even make a lot of money. As a result, games like Sandbox, Illuvium, and Decentraland are leading the metaverse race. These are the types of platforms that are most likely to attract consumers to the metaverse because they have a robust social network and a decentralized economy at their heart.
Entertainment: The metaverse takes entertainment to a whole new level, from networking with real people to making friends with AI-driven avatars to seeing your favorite artists lead a mind-blowing virtual concert. One of the metaverses dedicated to out-of-this-world experiences is Sensorium Galaxy. This metaverse features a huge musical offering that appeals to a whole universe of listeners, thanks to collaborations with some of the world's greatest artists, including David Guetta, Armin van Buuren, Steve Aoki, and others. Sensorium Galaxy will have additional content centers, such as a planet dedicated to meditation and self-actualization techniques, in addition to its music-focused world.
Real Estate: While for many people real-world real estate may be out of reach, purchasing a piece of virtual land can be more affordable and help create real wealth. For example, in virtual environments like Sandbox, there are plenty of land plots to buy. For those seeking more exotic real estate alternatives, you'll be able to locate not only property but also residences or even boats (complete with helipads, hot tubs, and DJ booths).
Corporate: Working online is already a reality for many of us, thanks to a large portion of the global population switching to remote employment during the COVID-19 pandemic. As Meta has previously demonstrated with Horizon Workrooms, the metaverse would continue. Others, such as Microsoft, are following suit, and we can only anticipate more businesses attempting to send their employees into the metaverse.
Metaverse games
Virtual reality has long been a strong contender in the gaming industry. Early 3D immersive games, such as Minecraft and Second Life, featured elements of the metaverse, such as 3D avatars, world-building, and observation as a form of gaming.
Gaming now has a new home, thanks to businesses like Meta and Epic Games attempting to create a connected universe of virtual realities.
Let's take a look at what gaming in the metaverse could look like, how quickly you could get started, and some potential pitfalls to avoid.
The metaverse is a unified and interoperable virtual reality space where users can interact with one another and the digital world around them using modern HCI hardware and software. This will take virtual reality gaming to new heights. VR gaming is currently only available as separate applications that you can download and install on your computer, VR headset, or mobile phone to play an immersive version of classic video games.
Metaverse instead proposes that several virtual reality games – and, indeed, any virtual reality application or area – might be linked to create a single interoperable environment for users.
They'd be able to switch between gaming apps, engage with the same gamers in different locations, and even transfer their achievements without having to remove their VR headset.
Gaming will have the following qualities in this context:
Games-as-platforms: The gaming experience will be far more adaptable. Users can contribute to the virtual world by creating their material, creating sub-games within a game, and using the gaming environment as a platform for other activities.
Social gaming: The metaverse is social by nature, distinguishing it from standard lonely VR experiences. Multiplayer gaming will gain a new dimension as gamers can invite real-life friends, engage with other players, and form relationships.
Play to earn: This will be a fundamental aspect of metaverse gaming. Players can engage in various profitable activities instead of following linear storytelling. For instance, they might be able to sell the items they've gained in the game to other users in exchange for cryptocurrency.
The possibility of portable game assets: Asset portability may be possible thanks to the metaverse's interoperable architecture. For example, weapons or avatar improvements obtained in one game could be transferred to another, with NFT rules governing persistent ownership.
Mixed reality experience: AR and MR are used in the metaverse to give a more natural experience. For example, mixed reality gaming might be used in the metaverse, allowing users to seamlessly transition from group chat in AR to an MR board game to a full-fledged VR world.
What are play-to-earn games and how do they work?
Play-to-earn games rely on blockchain technology to create games where users earn cryptocurrencies and non-fungible tokens (NFTs). Unlike in-game currencies and items in regular games, these tokens have genuine scarcity and are minted based on smart contracts. The value of these tokens might arise from advantages and rights in the game.
As a result, spending time in play-to-earn games can produce a meaningful income. When set in metaverses, these play-to-earn games can give yet a another incentive to stay in the virtual world.
Most popular play-to-earn games
Metaverse future
Although a fully functional metaverse might still be years away, the potential benefits and risks posed by the metaverse demand immediate consideration from many people and groups, including academic researchers, those building the metaverse, and policymakers.
The metaverse will be enormous, which is about the only thing you can say with certainty about it. That's the main lesson from Mark Shmulik, a Bernstein internet analyst, in a lengthy analysis on the metaverse's evolution.
Conclusion
Over the next few years, the metaverse is poised to become one of the largest trends, encompassing communication, gaming, entertainment, commerce, and everything beyond.
Metaverse is still an unchartered territory and a big battle is brewing between centralized big tech and decentralized blockchain-based virtual worlds.
The best way to see what metaverse is and where it might be heading is to experiment with it yourself. This is really easy to do with platforms like The Sandbox, Decentraland, and Cryptovoxels: just create a non-custodial crypto wallet and set off to explore this brave new world.