Hello frens. In April, the Zerion team shipped some new NFT features and several other updates. Some big things are in the works, we'll drop a few hints here.
Product updates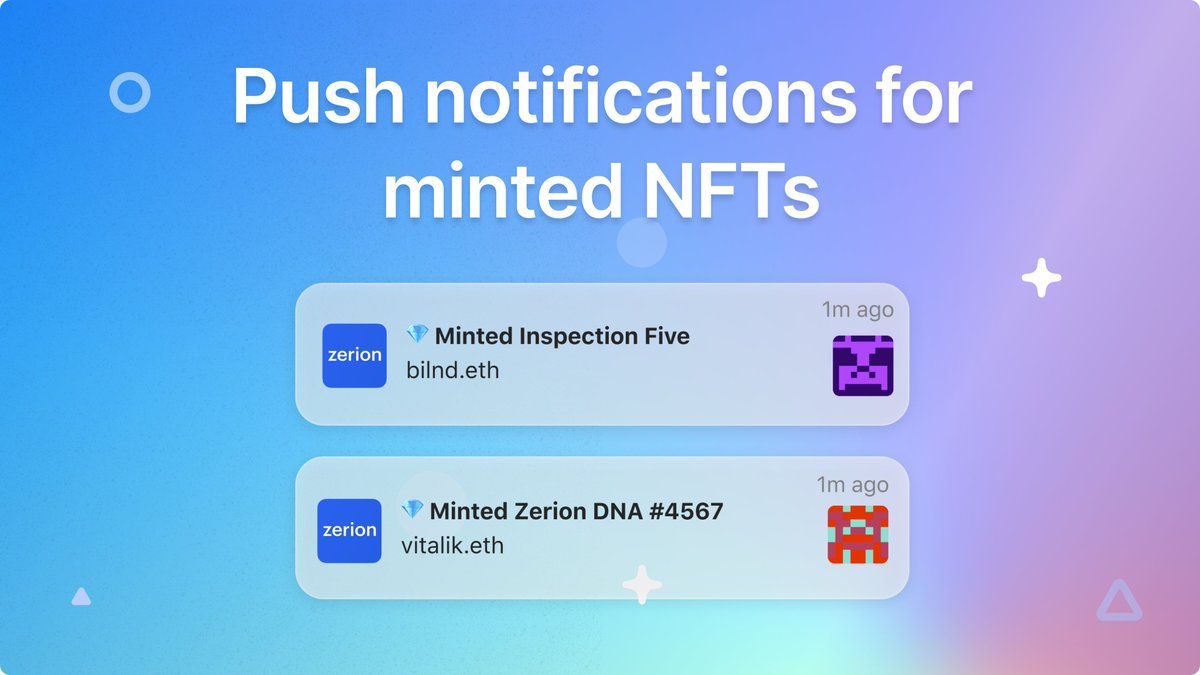 Are you keeping tabs on your favorite NFT artist or whale? Now with Zerion's new NFT features this is easier than ever. Just add their addresses to watched wallets, turn on push notifications, and get alerts every time they mint an NFT.
Zerion's new NFT layout now also lets you sort NFTs by price, collection, and the time they were added. And you can include all your JPEGs in the total value of the portfolio.
📜 New History. We want to make DeFi easier for everyone, which is why we put extra love into our history page.
You can now filter by transaction (trade, mint, send, receive) or asset (token, NFT) and see everything in a human-friendly format (goodbye block explorer!).
Oh and if you need to file taxes or just do some reflection, you can export transactions as a .csv.
👛 Wallet Wednesdays. We continued hosting #WalletWednesdays, the Twitter Spaces conversations about wallets. Speakers from Zerion, Argent, Coinbase Wallet, Phantom, Zapper, Gnosis Safe, and Tally Ho talked about security and monetization, the community, NFTs, and more.
Follow us on Twitter to check out past sessions and join the next one. By the way, the pinned tweet can give you a hint on why we're so interested in wallets.
📣 Noteworthy integrations
Aurora bridge is now live in Zerion's bridge aggregation
Index Coop's interest compounding ETH ($icETH) added
---
Community updates
Devconnect & ETHAmsterdam. The Zerion team met up with frens and partners in Amsterdam and our co-founder Vadim Koleoshkin even showed how to make your own Zerion in one hour.
Zerion Connect! We launched series of Discord events aimed at bringing the community together to talk about our R&D roadmap, community building, and new web3 use-cases. Come hang out in Discord every Thursday at 8am PST.
New roles for NFT holders. All the Genesis Collection holders are in for a treat — you can now claim a special role in our community. Go to https://noble.place/zerion, click "Discord" to give the necessary authorizations, connect your wallet to verify NFT ownership, and enjoy your new role!
---
Peace,
Your friends at Zerion

P.S Remember you can always chat to us on Discord or tell us what you want to see on our public roadmap. For support, check out our help center.
Note: We're now once sending the monthly update via email. Please check your email (including 'Promotions' if you use Gmail and even spam) and let us know if in Discord if you didn't get it but believe you were subscribed.