gm Zer,
Have you claimed your Lens handle?
The goal of Lens is to make it easy to build decentralized social media. Lens Protocol is a user-owned, open social graph that exists as NFTs on Polygon. The Lens team recently joined our Web3 Wednesdays to talk about this.
Their mission resonates with many Zers.
That's why we integrated Lens into Zerion. You can now search for users by their Lens handle (in the web app, mobile coming soon). It works just like ENS in Zerion: enter it in search and get the associated address.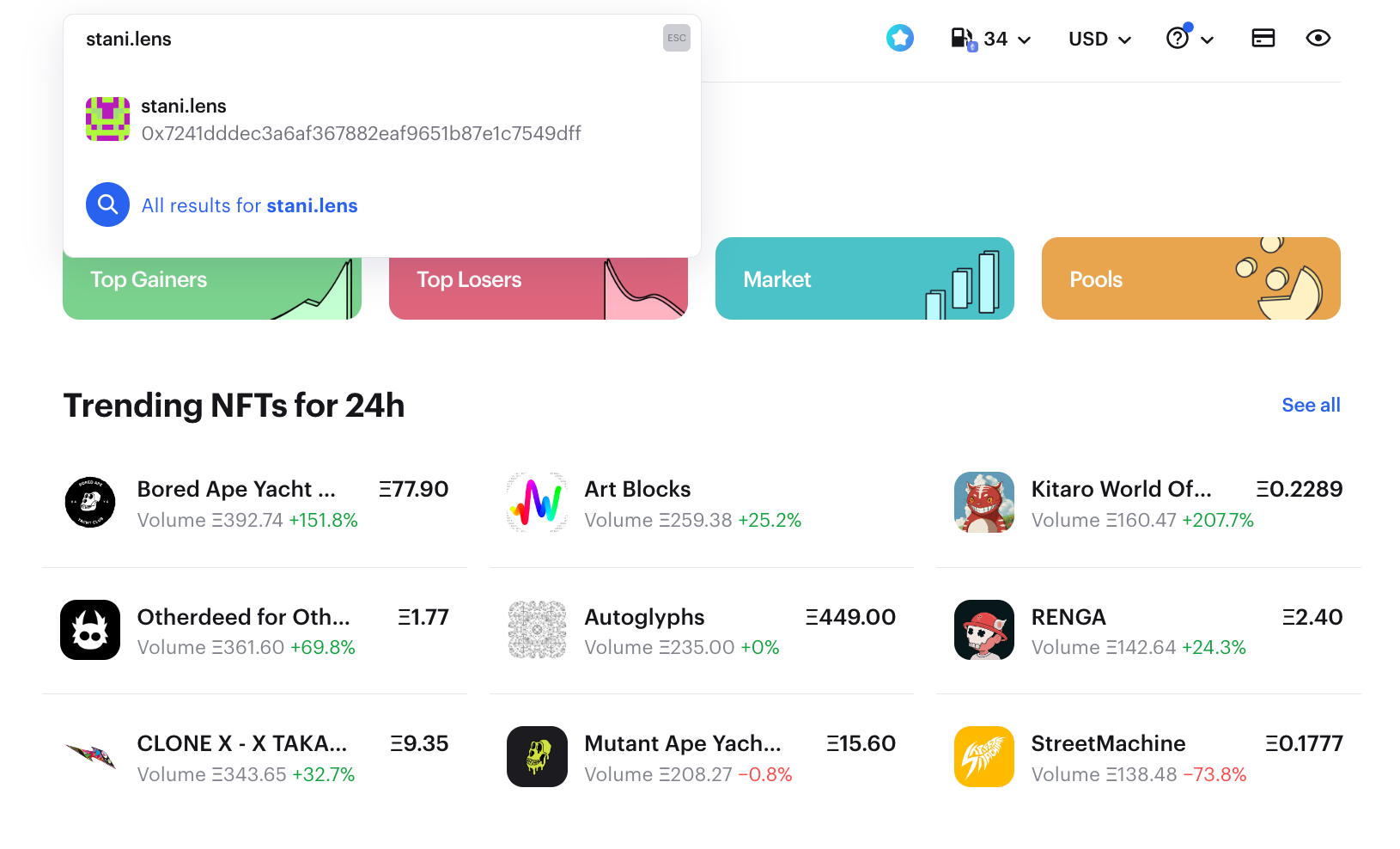 Unlike ENS, however, Lens is still invite-only. Early supporters and holders of specific NFTs are eligible to claim a Lens handle.
Now, holders of Zerion DNA are whitelisted to claim a Lens handle! Thousands of Zers have already claimed their handles.
If you don't have a Zerion DNA, go mint one in your Zerion Wallet, it's free and you only pay for gas. Keep in mind that you might need to wait for some time to get whitelisted on Lens.
Explore NFTs with Zerion
Tens of thousands of NFT collections minted over the past few years. Only some of them gain any traction.
Last month we launched the Explore NFTs tab on Zerion to help you find NFTs that are trending.
You can now browse hot NFTs without leaving Zerion. Just click on Explore and you'll see the trending NFTs for the past 24 hours, sorted by volume, price change, or floor price.
Play around and see what NFTs others hold. Or click through to see what BAYC or Punk holders trade. Zerion's web app is perfect for that casual on-chain stalking.
The Merge
As you know, the Merge was a success. (Don't know what's that? This guide will get you up to speed).
Ethereum is now Proof of Stake and its blockchain doesn't cause emissions. And gamers can once again buy GPUs.  
But, but… why didn't the price pump??
ETH emissions have indeed dropped by >80%. But the Fed keeps raising interest rates. Inflation sets records. Major fiat currencies wobble. The world in general isn't looking too bullish.
The most important thing in this market is to just hang there. Keep holding, learning, and trying new things. Like with Bitcoin halvings, it might take time to experience the impact of ETH supply reduction.
Meanwhile, staking ETH is now less risky than just a few weeks ago.
Validators still can't withdraw their staked ETH — that will be possible after the Shanghai, the next major Ethereum upgrade. But Proof of Stake is no longer a pipe dream, which means that staked ETH won't be stuck forever.
In other good news, ETH staking yield is up. That's because validators now also earn priority fees, which previously went to miners, as Lido's Jbeezy explained on Web3Wednesdays.
With Zerion Wallet, you can buy liquid staked ETH in just a few taps. In one of the Explore tabs, we gathered major staked ETH pools, vaults, and Aave deposits. You can buy them with Zerion swap, which will find you the best rate and help save on gas.
What's next
Some Zers from the Zerion team are at Devcon in Bogota.
Some happy winners of our giveaway on Lenster (built on Lens) will join us at rAAVE in Bogota — follow our Lenster profile for more cool stuff.
And add Zerion's Community Calendar to make sure you don't miss any of Zerion events, IRL or online.
Last but not least, we're also preparing a new Rest API. If you're interested in building with Zerion, you can pre-register to be the first to know about it.
To the moon and beyond,
Your frens at Zerion